Paradox Interactive's New Games Will Run Natively On SteamOS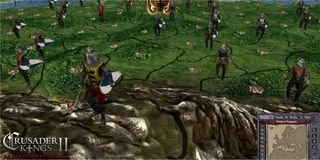 The nascence of the SteamOS brings with it good tidings and cheer for all... well, mostly good tidings and cheer for PC gamers. The SteamOS is an open-source platform designed to force Linux into the mainstream and Paradox Interactive has announced that they are in full support of this idea, with some of their newer titles being designed to run natively in SteamOS.
PC Gamer picked up word from Paradox Interactive's CEO Fredrik Wester who felt that the SteamOS was a great thing and that they will be supporting the OS moving forward with their new titles.
In addition to this, games like Crusader Kings 2 and Europa Universalis IV, both designed to support Linux, will also run natively in SteamOS. According to Johan Andersson, Studio Manager of Paradox Development Studio...
Valve's SteamOS is not only designed to be an open platform but, as Andersson mentions, it's designed to provide better performance through a bypass of mid-layered APIs and clunky operating system procedures. Instead, the OS provides developers near direct-access to the hardware, similar to AMD's new Mantle GPU API that allows developers to tap directly into the power of a GPU and harness it in the same (or a similar) way to console developers. Meaning, better, faster, more proficient optimization and performance for the end-user. PCs are now closer to consoles than they've ever been before.
This is very important because of a few things: it means that there's no longer an excuse for people not to get into PC gaming because a cheap PC for about $200 will give you comparable performance to mid-to-high-end gaming with the proper GPU. It also means that there's less reliance on middleware like DirectX to filter out performance or bottleneck a developer's direct access to the hardware's capabilities.
Paradox's CEO, Fredrik Wester, added that...
It looks like there are good times ahead for PC gamers and casual gamers looking to get into PC gaming. Hopefully the Steam Machines are reasonably priced to help bring in new gamers as well as give all those who are afraid to step into hardcore PC gaming a nice alternative from the sometimes fearful looking and high priced PC Master Race peripherals that carry price tags that would make a used car salesman blush.
The SteamOS is scheduled to launch in early 2014 alongside the Steam Machine and Valve's new Steam controller. There are exciting times ahead.
Staff Writer at CinemaBlend.
Your Daily Blend of Entertainment News
Thank you for signing up to CinemaBlend. You will receive a verification email shortly.
There was a problem. Please refresh the page and try again.