Racing Games 50% Off This Week On GOG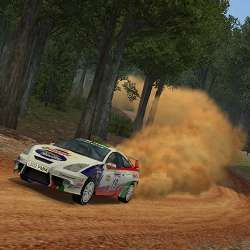 The summer months are generally a good opportunity to catch up on old games you've missed. Racing fans looking for something to tide themselves over until the next Forza or Gran Turismo might want to check out Good Old Games (opens in new tab) this week.
From now until Monday, July 27 at 11:59 p.m. EDT, Colin McRae Rally 2005, Screamer and MegaRace 3 are 50% off. The discount brings Colin down to $4.99 and Screamer and MegaRace to $2.99.
Another good reason to pick up Colin McRae Rally 2005 is that it won't be available through GOG after Wednesday, July 29th. Their licensing agreement with Codemasters is set to expire on that date.
Staff Writer at CinemaBlend.
Your Daily Blend of Entertainment News
Thank you for signing up to CinemaBlend. You will receive a verification email shortly.
There was a problem. Please refresh the page and try again.