Sequel to Zeno Clash Confirmed In The Works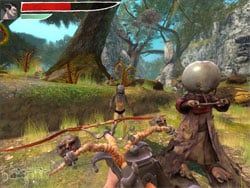 First person action lolapalooza Zeno Clash has already garnered a pretty loyal cult following since its release late last month, and developer ACE Team has recently revealed via email press release that a sequel is in the works.
The sequel, tentatively titled Zeno Clash 2, will pick up where the first game left off. The main character will remain the same, but some changes will be made to the formula, including a promise for "open ended gameplay with large explorable environments and RPG elements."
Meanwhile, ACE Team is supporting the original game with free updates via Steam with nice features like Italian subtitles and the addition of Health and Time counters to the Challenge Mode, which should improve some issues that players were having with that mode. No release date for Zeno Clash 2 has been announced yet, but stay tuned in with Blend Games for more coverage.
Your Daily Blend of Entertainment News