Shade 3D For Unity Now Available For Free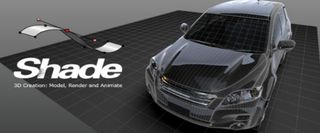 If you design games in Unity or you've always wanted to design games in Unity but you didn't know how to get started with prop, character and animation design, fear not for there is a free solution. That's right, a free solution. E Frontier announced today that their free 3D modeling, animation and prop designing toolset, Shade 3D, is currently available for Unity Technologies highly respected game engine.
Shade 3D will help new and veteran game designers, illustrators, artists and enthusiasts alike design and build any number of objects, props, architecture and characters both easily and conveniently. As stated in the press release...
If you're working on an indie title or you're tight on funds and need to fill out your game world but can't afford to hire freelance contractors to design objects and props for you, you can hop right into Shade 3D and start sculpting and shaping 3D properties on the fly.
Shade 3D works with current versions of the Unity Engine, including the free and the licensed version. You may even want to take the app for a test run in the public beta of the Unity 4 engine, to see how well it all holds up.
You can grab the Shade 3D right now, for free, from the Mac app store (opens in new tab). For more information feel free to visit the Official E Frontier Website.
Staff Writer at CinemaBlend.
Your Daily Blend of Entertainment News
Thank you for signing up to CinemaBlend. You will receive a verification email shortly.
There was a problem. Please refresh the page and try again.