The Sims 3: World Adventures First Impressions - Egypt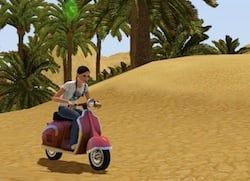 As I'm still learning my way around the new Sims 3: World Adventures expansion pack, I've spent the last few days taking Celia Henkel through the different countries to get a taste of what this EP really has to offer. Tonight, Celia embarked on another journey, this time to the third and last destination available: Egypt!
While Celia enjoyed the gorgeous countryside in France and the rich culture of China, her trip to Egypt was full of adventure and even a bit of romance. According to Celia, you haven't lived until you've done woohoo in a sarcophagus!
When she has time on her hands, Celia likes to reminisce as she gazes at her photos. Tonight as she looked at the pictures of Gerard, Cartier and Ho Sung, she thought about Egypt. The final destination on her journey to travel the world.
She had plenty of money thanks to the last adventure she did in China and her recent promotion at work, so she set off for Egypt right away…
Unlike the base camps in China and France, which included a sturdy structure for resting, the Egyptian base camp was… a camp. Complete with tents, an outdoor kitchen, some bathrooms (indoors thankfully) and local bugs. Celia stopped to catch some butterflies that looked like bits of burnt paper…
Then she set off for the market to pick up some souvenirs. The mode of transportation in Egypt is scooters, like France. This is good as Celia wasn't a fan of the bicycles.
She stopped at the market to purchase some more showers in a can, a scooter to take home with her and she found that she was able to buy herself a new camera. The one she had was a basic disposable but the new one she got was a fancy digital SLR. It cost a few thousand simoleons but because one of her new traits is photography, she thought it might be worth the money and an incentive to improve her photography skill. She also bought this…
She got away from me for a second and when I zoomed in on her, I saw that image and thought for a second that she stumbled across a head shop or something. But now, it is in fact, a snake-charming kit. And Celia loves to whip the thing out whenever she gets a spare moment and blow some awful music from the horn.
After charming the snake for a while, she explored the market and found a basement with a nectary cellar.
She got herself some nectar, which made her feel good. It was then that I decided to check her reward points to see if she had enough to purchase some helpful rewards. As it turned out, she had enough to get the Observant reward (helps her learn traits quicker), the steel bladder (makes her have to go to the bathroom less) and the "Eye candy" which makes her attractive to other Sims. Now, had I known that the eye candy trait was going to cause a bunch of sparkly things to surround her permanently, I wouldn't have bought it but I thought I should explain this to you since you're going to see the stupid sparkly things around her from here on out.
Upon leaving the market, she went to the Egyptian cemetery, which is called Deserts End (or something like that).
After exploring the catacombs and finding a soulstone (I think that's what it was called), which is very valuable, though I don't know if it serves a purpose other than being a white-ish gemstone, she headed into one of the tombs.
And because it was late, she decided to stay overnight at the cemetery. She discovered on her own that she could sleep in the sarcophagus, so rather than setting up her tent, that's what she did…
The following morning, she got up and dug through some of the old bones. She found a bunch of beetles under one pile and nothing under the other two, though she did improve her rubble-clearing ability enough that it should take less time for her to do it in the future. And then when I left her on her own, she took her snake-charming kit out and played it. I'm thinking that's going to get old fast and decided that the first thing I did when I got her home to Sunset Valley was take the thing out of her inventory so she's not playing it every five minutes.
Celia remembered that Cartier was from Egypt and wanted to visit him but I couldn't find his house on the map. So I had her call him and invite him to the cemetery. He met her down in the tomb…
They caught up on old times and then Celia had an idea… What if they both went into the sarcophagus together?
Sure enough, just as she was able to sleep in the big stone box, it was also roomy enough to do a little woohoo… Cartier thought it was a bit touristy, but he went along with it…
As Celia and Cartier are just friends, it was a little awkward afterward…
So she slept in her tent by herself that night and since two ghosts decided to nap in the sarcophaguses, Cartier slept on the floor.
The next day, Celia left Cartier in the tomb and headed off to visit the Sphynx…
Inside, she found that the place was a wealth of puzzles to be solved and treasure to be discovered…
And she was even able to get full bars on her cell phone while standing amidst the flames and pushing the big stone thing out of her way…
The call was from someone offering her adventure but Celia put that task on hold. She wasn't currently on an official adventure but that didn't stop her from making her way through the giant Sphinx. She was very excited when she found the room with the dive pools…
She went passed them and checked out some sarcophaguses, both of which pulled her in and then spit her out, making her dizzy.
After nothing came of that, she decided to check out one of the dive pools. The sign outside the room said something about avoiding the dark water, so she went to the only pool that had purple water and threw caution to the wind…
She found a switch down there that led her to another room. And in that room, a secret door…
Beyond the door she found… a bathroom. So she took a bath. She didn't need to use the toilet because her steel bladder is working so well that her bathroom bar has been at full green since she bought the reward. I think that might actually be a bug but its one I'd hate for EA to fix.
She explore the area further, found a lot of treasure and then camped out in the dive pool room for the night since that was the closest area with enough space for her tent…
The following day, she made it all the way through the sphinx, scored even more loot and then headed back to the base camp for the night…
This was the first night she was staying at the base camp and she was glad she opted to head back that way because guess who was there?
Gerard! Her French lover, whom she had visit her in Sunset Valley. He was on holiday in Egypt just like her and he was very happy to see her… So happy that he joined her in her tent that night…
And they made out a little…
And then one thing led to another and the tent was a'rockin'!
Celia's unexpected encounter with Gerard was the perfect way to spend her last night in Egypt. The following day she started on the adventure she'd been called about while she was at the Sphinx but she didn't have time to finish it before she had to head back to Sunset Valley. She enjoyed Egypt quite a bit and plans to go back there to finish her adventure and to see the pyramids.
But now she's back in Sunset Valley with a mind full of memories of the places she's been. She's been to all three destinations now and Celia has acquired quite a bit of loot, souvenirs and some new loves, one of which could turn out to be the man she's destined to marry. So I plan to finish out this series with a wrap-up on how her travels have affected her everyday life in Sunset Valley. Stay tuned for that!
CLICK HERE to see how Celia's adventures have impacted her life back in Sunset Valley!
Kelly joined CinemaBlend as a freelance TV news writer in 2006 and went on to serve as the site's TV Editor before moving over to other roles on the site. At present, she's an Assistant Managing Editor who spends much of her time brainstorming and editing feature content on the site.
Your Daily Blend of Entertainment News
Thank you for signing up to CinemaBlend. You will receive a verification email shortly.
There was a problem. Please refresh the page and try again.