StarCraft 2 Adds Warcraft 3 Assets For Mods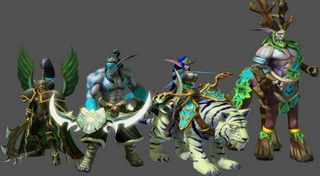 Blizzard is giving back to the modding community of StarCraft II by releasing the assets for Warcraft III to the general public. This means that gamers with a penchant for modding can make their own creations in StarCraft II using Warcraft III assets.
Eurogamer spotted the news over on the Battle.net website, where Blizzard rolled out the information about giving back to the modding community in a pretty big way with models, textures and more than 3,000 different materials for community creations. The materials include four different character classes, some of the iconic structures from Warcraft III, the ambient sounds used in the game, the original soundtrack and music samples, as well as the custom user interface for each race. All of that is up and available for use in StarCraft II.
As mentioned over on the Battle.net blog...
This is a pretty big deal because it's rare for companies to drop down to the community level and ask them for mods.
Core gamers know how important the modding scene is for the growth of the industry. Heck, there are countless major gaming brands out there that started as mods, from Counter-Strike and Battlefield to Team Fortress and Garry's Mod. Supporting the modding community is supporting the next wave of creative, community-driven developers.
In fact, even Techland recognized the importance of the modding community after a short spat that occurred when Dying Light mods were hit with DMCA claims and a patch for the game prevented users from making use of the mods. The developers quickly addressed the situation and mentioned how favorable they were toward the modding scene and how important a role they played in the community growth for Dead Island.
Blizzard is all in on the modding scene, though. They even want to see what the community comes up with, writing...
The comment section is full of rallying cries for creative new ventures within the StarCraft II engine set using the Warcraft III assets. You can gain access to the Warcraft III tools and materials by opening up the Battle.net launcher and selecting the StarCraft II< PTR from the drop-down menu. Click on "Launch Editor" from the StarCraft II public test folder.
You can learn more about the Warcraft III modding assets by paying a visit to the official Battle.net website.
Your Daily Blend of Entertainment News
Staff Writer at CinemaBlend.