New Suikoden Coming To PSP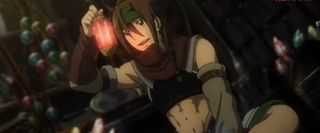 Konami had a surprise up its sleeve for Tokyo Game Show. During the convention, they announced a new Suikoden game is in development for the PSP.
Andriasang reports that the new game is entitled Genso Suikoden Tsumugareshi Hyakunen no Toki over in Japan. No word on what its Western name will be. In fact, we don't even know if it will be released outside Japan.
Following their announcement, Konami opened an official Twitter account and teaser website. Both are in Japanese, unfortunately. However, the trailer's at least got some attractive animation for you to gawk at even if you don't understand a word of what's being said.
The game's release window hasn't been announced yet. The trailer simply notes that it's "coming soon."
Your Daily Blend of Entertainment News
Staff Writer at CinemaBlend.