Tales Of Pirates: New Year Event In Full Swing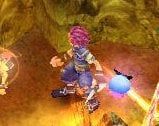 Dear newbs, your weak low-level characters will be treated to something special with IGG's Lunar New Year event, if you can level up your pirate-wannabe to a designated level. The good news is that the event will last up until February 9th, the bad news is that the event has already started.
According to the press release, " "Entrants should create an account during the period between January, 25th and January 31st and strive to level up quickly. Until 12:00am EST (GMT-5) February, 9th the TOP official will check the players' levels in a ranking list. Entrants who have reached Level 60 and level 69 will obtain a Chest of Enigma as reward and those who are level 70 or above will obtain a Chaos Chest."
Getting to level 70 seems like a challenging task for newbies…but I believe dedicated players who are willing to give up play-time with other games will reach the required level quite easily. You can learn more about this by visiting the Official Tales of Pirates Website.
For more news and info on all things gaming, be sure to stay tuned in with Blend Games.
Image 1 of 4
Your Daily Blend of Entertainment News
Staff Writer at CinemaBlend.