Uncharted 4 Enlists Halo 5 Voice Actor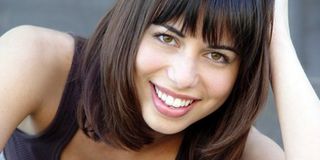 It seems that Naughty Dog is about to announce another character for Uncharted 4's cast. An upcoming panel about the game will feature a voice actor who's never been part of the series before.
The new addition to the voice cast is Laura Bailey. Odds are you've played a game with her voice in it. Some of her recent roles include Olympia Vale in Halo 5, Bianca Davri in Dragon Age: Inquisition and Kira Carsen in Star Wars: The Old Republic. Bailey was also Fiona, one of the two main characters in Tales from the Borderlands.
Bailey's role will be announced at "Uncharted 4: Stories from the Performance Capture Set," a panel at PlayStation Experience this weekend. Other voice actors attending the panel include Nolan North, Richard McGonagle and Troy Baker. North and McGonagle will be reprising their roles as Nathan Drake and Victor Sullivan, respectively. Baker is playing Sam, Nathan's long-lost brother whose abrupt appearance kicks off the adventure.
Emily Rose, the voice of Elena in past games, won't be attending the panel. Naughty Dog director of communications Arne Meyer shot down speculation in the PlayStation.Blog comments section that Bailey would be replacing her as Elena, though:
Who is Bailey playing, then? It must be an important role if they're motion-capturing her and putting her on the panel with three other major characters. Maybe she's a villain? To my knowledge, we haven't found out who Drake and company will be facing in this latest adventure yet. We're close enough to the game's launch for Naughty Dog to plausibly share that information.
The Uncharted 4 voice acting panel will be held on December 5th at 3 PM Pacific at the Moscone West Hall in San Francisco. The panel will feature behind-the-scenes footage from the game's development along with some "never-before-seen cinematics." To tease the reveals, Naughty Dog shared a picture of Bailey in mo-cap gear along with Nolan North:
PlayStation Experience 2015 is a two-day exhibition of upcoming PlayStation games being created by Sony as well as third-party companies. Over a hundred games will be showcased at the convention. You can buy tickets through Sony's website.
Uncharted 4, meanwhile, is scheduled to launch on March 18th exclusive for PS4. You can pre-order the standard edition or three different collector's editions now.
Staff Writer at CinemaBlend.
Your Daily Blend of Entertainment News
Thank you for signing up to CinemaBlend. You will receive a verification email shortly.
There was a problem. Please refresh the page and try again.