Unreal Engine 3 Powering New Baseball Game And MMORPG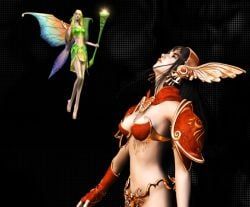 AniPark announced today that they're working on a quasi-sequel to their uber-popular MMO baseball game, MaguMagu, along with another new MMORPG. The real news is that AniPark has licensed the Unreal Engine 3 to power these two new games.
Kwon Min Kwan, development director at Anipark commented in the press release, saying…
The baseball game is bound to be popular with the Korean community, however the MMORPG is something of a completely different nation. The next-gen online RPG will follow-up on AniPark's Project A3 release, with a heavy focus on cinematic, movie-like camera work and "dramatic" battle sequences.
We'll keep you posted on any new updates regarding the two new games. For more info be sure to visit the Official Website.
Your Daily Blend of Entertainment News
Staff Writer at CinemaBlend.