Weekly Recap: Notch Leaves Mojang And 5 Other Eye-Opening Stories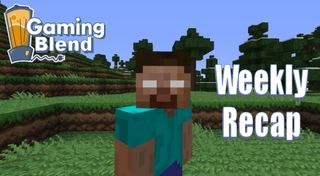 The big news this week was all about Minecraft's developers being acquired by Microsoft, subsequently putting the multi-million selling franchise under the umbrella of the software publishing giant. The buyout caused Markus "Notch" Persson, the man behind the original release of Minecraft, to voice his displeasure with the acquisition and move away from the company.
#GamerGate continues to gain steam as more developers join in on the fray to show support for the gaming community. PS3 games on PlayStation Now have gone live for PS4 owners, and Destiny continued to trend in the headlines, but not for the reasons you think. These stories and more in this September 20th, 2014 edition of the Gaming Blend Weekly Recap..
Super Smash Bros. Release Date Revealed?
News has leaked that indicates when Super Smash Bros. could be made available for the Wii U. NetherRealm Studios has announced a new fight-pad for Mortal Kombat X. Some new titles make their way onto the PS Vita, including Frozen Synaspe: Prime and Jungle Rumble. Microsoft has a new holiday bundle for the Xbox 360. A demo has arrived for Super Smash Bros. on the 3DS, so you can grab it right now. Here's why Microsoft is planning on buying the Minecraft developer, Mojang AB. You might want to watch out for this very dangerous Steam malware hack. Microsoft is also looking into making their streaming service arrive to compete with PS Now. And Oculus VR could be releasing a public beta come summer, 2015.
Why Notch Is Leaving Mojang
Minecraft's "Notch" said he was going to do it and now he's doing it. The billionaire is taking his money and going home. This comes after it was officially confirmed that Microsoft has officially announced their purchase of Minecraft. Some of the games that dropped this week for the PlayStation game consoles are pretty slick. Check them out here. An unlikely but welcome big-hit on Steam is coming to the Xbox 360 and PS3. Also the Xbox One has been turned into an Xbook Laptop... it's pretty darn expensive, too. And Ubisoft explains why there are no French accents in Assassin's Creed Unity... the answer might shock you.
Developers Join GamerGate
A bunch of developers have joined in support of the #GamerGate movement. The creative director at Ubisoft explains why Assassin's Creed Unity doesn't sport French accents.... the reasoning is absurd, but it's true. Electronic Arts has decided to kill off the coin trading options in FIFA 15 due to middle-market sellers, undercutting their profits. Some brand new playable DLC is on the way for Watch Dogs. If you're reading this during the month of September, act quick and you can get Halo: Reach for free. A new raid has been made available for Destiny. Speaking of Destiny, Bungie may not be getting any bonuses out of the deal. And Ryan drops a beaty review on the rhythm fighting game Kickbeat.
Destiny Continues To Disappoint
Gaming Blend's own review of Destiny has gone live. It gets more middling game reviews. Destiny also manages to score some interesting stats on the sell-through front, making back slightly less than what Activision sold-in to retailers. Sega announces that there's a special mode for Aliens: Isolation but it'll cost you extra. Microsoft has plans to release a wired controller for PC this November, so if you really love the Xbox One gamepad you can use it on PC. New details have emerged for Shadow Warrior on the PS4 and Xbox One, which is set to arrive this fall.
PlayStation Now Goes Live
PS3 games are currently available for streaming on the PS4 via PS Now. Disney Infinity promotes some new content, including the inclusion of the Guardians of the Galaxy. There's more than 20 minutes worth of footage from the upcoming Metal Gear Solid V, featuring the silent and deadly, Quiet. Will Ferrell wants to play video games with you for charity... no, really. A new update to World of Warcraft will remove a very important quest. Also, you'll likely want to find out how to get in on the alpha test for the PS4 exclusive, Bloodborne.
Super Smash Bros. Demo Lands On 3DS
One of the biggest games set to launch this fall has had its 3DS demo released. That's right, you can get in some game time with Super Smash Bros. on the Nintendo 3DS. Final Fantasy XIII is being released on Steam on October 9th. A special event for Destiny has gotten underway. InExile Entertainment announced that Wasteland 2 is currently available for purchase. Some interesting new stats have been made public regarding players reaching Legend in Heartstone. Maingear and Nvidia have teamed up for the new GTX 970 and GTX 980 GPUs. And Red Bull wraps up the season with the Grand Finals at the Lincoln Center in Washington D.C.
Staff Writer at CinemaBlend.
Your Daily Blend of Entertainment News
Thank you for signing up to CinemaBlend. You will receive a verification email shortly.
There was a problem. Please refresh the page and try again.