You'll Feel A Fever Coming On With The Latest Rock Band 4 Tracks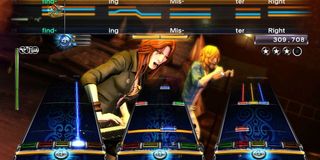 The train keeps a-rollin' for Rock Band 4, as a whole new set of songs were announced today for the upcoming rhythm game.
Today the song list was updated with several new tracks, including "What's Up" from 4 Non Blondes, "Fever" from The Black Keys, and "Prayer" from Disturbed. However, a good amount of the songs, like the last batch that was announced a week or so ago, these seem to be more of the "B-sides," as it were, of rock and roll, rather than the classics we might be used to seeing in other music and rhythm
games.
A lot of this could be owed to the fact that Harmonix went to the fans to ask what music they'd like to see in the game (as yours truly asked for Queens of the Stone Age's "My God is the Sun") and what artists should be included. Because while there's an eclectic mix of artists, they're not all really songs you'd expect to hear on Rock Band, especially with such a surplus of great radio hits (and off-radio jams) to choose from. One wonders if a lack of more current hits may be attributed to the lack of support for music and rhythm games that we've seen in the past few years. Whatever the case may be, these songs certainly aren't indicative of what's out there to choose from.
The full list of songs added today are as follows:
4 Non Blondes – "What's Up?"
The Black Keys – "Fever"
Disturbed – "Prayer"
Duck & Cover – "Knock Em Down"
Eddie Japan – "Albert"
Fall Out Boy – "Centuries"
Halestorm – "I Miss The Misery"
Heart – "Kick It Out"
Heaven's Basement – "I Am Electric"
Lightning Bolt – "Dream Genie"
Rick Derringer – "Rock and Roll, Hoochie Koo"
Rush – "A Passage To Bangkok"
Scorpions – "No One Like You"
Slydigs – "Light The Fuse"
Soul Remnants – "Dead Black (Heart of Ice)"
System of a Down – "Spiders"
White Denim – "At Night In Dreams"
Of course, along with these songs, you can import all of your existing Rock Band songs from your DLC library, so if you don't see something you like on this list or any of the previous batches of songs, there's still plenty for you to sing and rock along with.
The game is scheduled for an October 6 release on Xbox One and PlayStation 4, and you'll be able to browse the Rock Band Music Store for an additional 1,500 tracks to suit you. It'll be a party for sure, but it's such a great thing that we can bring our downloaded tracks along. At least it's not been delayed, like Harmonix's other project Amplitude.
Your Daily Blend of Entertainment News