Janelle Monáe Rocked A Futuristic Dress With Some Big Cutouts Over The Weekend, And She Looked Incredible
It's avant-garde, futuristic, and stunning.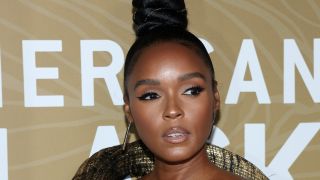 (Image credit: Photo by Jemal Countess/Getty Images)
In true Janelle Monáe fashion, the actress/singer rocked the carpet recently in a futuristic, edgy dress, that was 100% unique and futuristic, while simultaneously fitting her style perfectly. The Glass Onion star is known for her unique sense of style, and she's been seen rocking futuristic looks for years, however, her latest dress, which featured some gorgeous big cutouts, is one that we should all take a minute to marvel at.
While walking the black carpet at the 5th American Black Film Festival Honor Janelle Monáe rocked a gorgeous Gaurav Gupta minidress, per Red Carpet Fashion Awards. The article noted that the designer uses "sculptural creation and the fluidity of innovative materials" to create his pieces, and Monáe looks absolutely radiant in this futuristic dress, check it out:
As you can see, the dress features a big shoulder piece, a bando top, and a small skirt, and all of it is connected by a swirling piece of fabric that culminates at her shoulder. It's also made of gorgeous gold and black fabric that sparkles against her glowing skin, and features big cutouts around her torso and shoulder. Overall, it's a stunning look, and I don't think I've seen something quite like it.
The dress really was the star of the show, as Monáe brought her ensemble together with a pair of simple black strappy heels, gold jewelry, and natural glam. It was clear that this Gupta piece was the focal point, as the singer wore her hair in a high bun, with metallic strings in it, guaranteeing that the dress would be on full display.
Looking at the way Monáe used makeup, hair and accessories to amplify the dress, it reminded me of the hooded looks both Margot Robbie and Jenna Ortega rocked a few months ago. While the Hidden Figures actress is wearing a more avant-garde dress, the simplicity of her makeup and hair mixed with the uniquely cut dress, reminded me of the black hooded dresses the Babylon and Wednesday stars wore. Her confidence on the carpet, and her bold looks, are also reminiscent of Florence Pugh and her fashion choices, like her recent see-through skirt moment. Through these comparisons, it becomes clear that, like the aforementioned actresses, Monáe has an incredible ability to bend trends, make them her own and slay a red carpet.
Janelle Monáe is known for making bold, unique, and futuristic fashion statements. If you take a look at her Instagram, that becomes abundantly clear, and if you ever see her on a red carpet she's usually rocking an outfit that is campy, gorgeous, and cutting edge. For example, she was one of the early adopters of the wild Big Red Boots that have been making the rounds. Also, while on a press tour with the Glass Onion cast, she rocked more futuristic dresses that included a beautiful swan-like white gown, and a bright red gown that featured a massive red headpiece, as seen in People. This gold outfit is a perfect addition to the Moonlight star's portfolio of looks, and proved once again that she is a queen of fashion.
While Monáe does not have any new projects coming to the screen this year, she is releasing new music. So, there are without a doubt more fantastic looks to come with her next musical endeavor. On top of her new single, her latest film Glass Onion (which can be streamed with a Netflix subscription) is on the list of 2023 Oscar nominees. So hopefully, that means she will make an appearance at the ceremony to support the Knives Out mystery, and rock another futuristic dress like this gold minidress with big cutouts that was absolutely stunning.
Your Daily Blend of Entertainment News
Riley Utley is a Weekend Editor at CinemaBlend. She spent many years working in local journalism across the country writing about art, news and sports. One of her favorite films is When Harry Met Sally and she walks around constantly quoting Ted Lasso.