Lance Reddick's Wife Breaks Her Silence Following The John Wick Star's Death At 60
Stephanie Reddick has spoken up.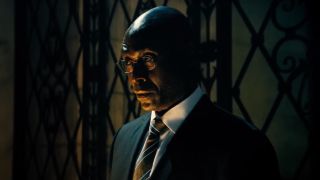 (Image credit: Lionsgate)
Following Lance Reddick's tragic death at 60, his wife Stephanie Reddick has spoken out about her husband. She took to his Instagram today to pay tribute to her late partner, and express gratitude for the support the family has received.
The post included portraits of Lance Reddick, and Stephanie Reddick wrote a caption to say thank you for everyone's support, specifically thanking the "thousands of Destiny players" who paid tribute to her late husband. She wrote on Instagram:
Along with mentioning the love and support she felt from fans of the video game Destiny 2, a project that Reddick worked on for over a decade, she also mentioned that donations could be made to momcares.org in Baltimore, which is Rddick's hometown.
Reddick was found on Friday morning at his home in Studio City, his cause of death is not confirmed, however, TMZ reported that it appears to be natural. The news came as a shock to many, as the actor was only 60 years old, and he had many projects in the works.
Support was immediately shown for the Reddick family as friends and fans reached out, including Keanu Reeves who paid tribute to his John Wick co-star. The actor wrote that his "love and prayers" are with Stephanie Reddick and their kids, friends and family. He also noted that their upcoming movie John Wick: Chapter 4 would be dedicated to Lance Reddick.
Along with being part of the John Wick: Chapter 4 cast, Reddick was also part of the ensemble of the spin-off Ballerina. He also was part of the Percy Jackson cast as the god Zeus, and is slated to appear in the movies White Men Can't Jump, Shirley and St. Sebastian, which are all projects that are either completed or in post-production. So, we'll be able to still see this beloved actor in the months to come, on both the 2023 TV schedule and in a few of this year's new movie releases.
While it's amazing we'll get to see so much more of Lance Reddick in the near future, he also has an amazing legacy. He appeared in every episode of HBO's The Wire as well as a few episodes of the network's acclaimed series Oz. After that, he went on to star in other hit shows like Lost and Bosch. So, along with his amazing career in movies and video games, he'll also be remembered for his outstanding performances in classic television shows.
It's tragic that we lost such a fantastic actor so early, and seeing all the support fans have shown for his wife, family and friends is heartwarming. Stephanie Reddick made it clear she was very grateful for all the thoughtful messages sent to her from her husband's fans, and it's clear that he left a legacy that will always be remembered.
CinemaBlend sends our thoughts and condolences to Lance Reddick's family, friends and fans during this difficult time; he'll be missed dearly.
Your Daily Blend of Entertainment News
Riley Utley is a Weekend Editor at CinemaBlend. She spent many years working in local journalism across the country writing about art, news and sports. One of her favorite films is When Harry Met Sally and she walks around constantly quoting Ted Lasso.