Pedro Pascal Is An R-Rated Badass On The Last Of Us, But Has Funny Story About His Dad Not Letting Him Watch The Breakfast Club
Of all the movies why was he not allowed to watch The Breakfast Club?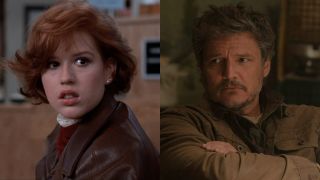 (Image credit: Universal)
Pedro Pascal has made a career out of starring in TV shows and movies where he plays an R-rated badass. To prove this point, his latest hit is The Last of Us, he had a stand-out role in Game of Thrones, and he was on Netflix's Narcos as well as Kingsman: The Golden Circle. In short, he's been in tons of projects that aren't exactly kid friendly. Turns out, there's a good chance his parents might have let him watch these as a kiddo, considering the films he saw at such a young age, but his dad had to draw the line somewhere, and that line hilariously was The Breakfast Club of all movies. And the actor revealed why that was the one film he wasn't allowed to watch as a kid.
Pascal admitted he was a bit shocked by his dad's ban on The Breakfast Club, considering he was allowed to watch movies like The Big Chill and First Blood. And knowing that, I'm also a bit shocked; I'm also convinced the actor probably would have been able to watch some of his own work if it came out back then, considering the other films he was able to see.
The actor went on to explain why his dad wouldn't let him and his sister watch the John Hughes' classic on Late Night with Seth Meyers, saying:
Meyers noted that there is no nudity in The Breakfast Club, and it's not a violent movie by any means. However, it does deal with mature topics, and I understand Pascal's dad not wanting his kids to watch a movie where the kids bash their parents. However, the patriarch of the Pascal family's logic is still a little funky.
Pascal also noted that he was allowed to watch Sixteen Candles, and both he and Meyers agreed, that movie was probably worse to watch as a kid compared to The Breakfast Club.
The talk show host then joked that that was a "wild swing" in Pascal's parents' opinion from being dead set on their kids not seeing this high school classic to basically using the movie as a babysitter stand-in.
Now, it seems like a good portion of Pedro Pascal's work is not necessarily kid friendly. He might be great as the lead of The Last of Us cast, but as an adult that show terrifies me, so I would not allow a 10-year-old to watch personally. Also, Game of Thrones would be a hard pass too, considering the actor has one of the more R-rated death scenes out of the entire GoT cast. However, The Mandalorian I might be OK with a kiddo watching, like The Breakfast Club it might not be the most kid-appropriate, but it's really not that bad.
To see the film Pascal's father banned, then un-banned him from watching, you can stream The Breakfast Club with a Hulu subscription. If you want to watch any of the actor's arguably more R-rated work you can watch new episodes of The Last of Us every Sunday on HBO or with an HBO Max subscription at 9 p.m. ET, and new episodes of The Mandalorian will be available to those with a Disney+ subscription starting March 1.
Your Daily Blend of Entertainment News
Riley Utley is a Weekend Editor at CinemaBlend. She spent many years working in local journalism across the country writing about art, news and sports. One of her favorite films is When Harry Met Sally and she walks around constantly quoting Ted Lasso.