10 Oscar Winners Who Were Great In A Marvel Superhero Movie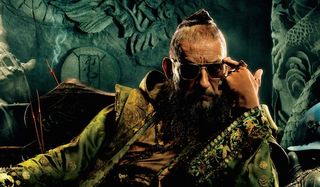 Superhero movies often have an advantage succeeding at the box office because of their built-in recognition. Marvel has proven especially adept at this, be it adapting a character that almost everyone is familiar with like Captain America or building off the brand like Guardians of the Galaxy and Ant-Man did. Of course, awareness will only get you so far, which is why it's important that the people involved are also skilled. So far Marvel has done a good job hiring a lot of talented actors for their movies, and the latest big name actor they're looking at is Cate Blanchett.
Several days ago, it was reported that Blanchett is being looked at for a major role in 2017's Thor: Ragnarok. The actress has taken many memorable roles over the years, and during her career she's earned two Oscars: one for Best Supporting Actress In The Aviator and one for Best Actress in Blue Jasmine. With that in mind, we decided to take a look at the other Oscar winners the Marvel Cinematic Universe has recruited over the years. There's no denying that these actors are among the best of the best, and thanks to them, they helped make Marvel's big screen adventures a little better.
Anthony Hopkins
Thor wouldn't who he is today without the mentoring (and tough love) of his father Odin, played by Anthony Hopkins. The graduate of the Royal Welsh College of Music & Drama has a diverse selection of credits, ranging from playing John Quincy Adams in Amistad to narrating How The Grinch Stole Christmas. However, it was his role as Hannibal Lecter in 1990's Silence of the Lambs that earned him the Oscar for Best Actor. In terms of his Marvel performance, Odin serves as the voice of reason in the God of Thunder's movies, but more importantly, he's overflowing with that Shakespearean flair that fits so well in Asgard. While it hasn't been confirmed whether he'll be back for Thor: Ragnarok, it's more likely than not he'll put the eyepatch on one more time, either as the real All-Father or as a disguised Loki.
Michael Douglas
Even though Hank Pym didn't get to be Ant-Man's main superhero, we're glad that Marvel brought Michael Douglas aboard to play the creator of the Pym Particles. Like Hopkins, Douglas filled the mentorship role quite well while also sporting just enough attitude to make him more interesting, and more than just your average weird scientist. Douglas is primarily known for his intense roles, so seeing him in a lighthearted superhero movie was different, but welcome. Douglas won the Best Actor Oscar for playing Gordon Gekko in 1986's Wall Street, and he also produced the winner of 1975's Best Picture recipient One Flew Over the Cuckoo's Nest. Douglas will reprise Hank in Ant-Man and the Wasp, so we'll see him continue to train the eponymous heroes, and maybe he'll get to be in on the action a little more.
Tommy Lee Jones
Tommy Lee Jones won the Oscar for Best Supporting Actor in 1993 for playing Samuel Gerard in The Fugitive, and has also earned a few nominations before and after that win. In terms of superhero movies, he's actually pulled double duty. First he played Two-Face in 1995's Batman Forever, but his performance was so over the top and Jokerish that it was more cringeworthy than good. Fortunately, he was able to redeem himself 16 years later as Colonel Chester Phillips in Captain America: The First Avenger. Once again he played the stiff authority figure perfectly, which is exactly what was called for in a World War II adventure. Captain America needed a figure to direct him where to go during the conflict, and even though Phillips didn't believe in Steve Rogers at first, by the end of the movie he considered him one of the greatest soldiers he ever met.
Gwyneth Paltrow
Tony Stark has James Rhodes as his buddy, but without Pepper Potts, the billionaire industrialist wouldn't have anyone as his anchor. Gwyneth Paltrow won the Best Lead Actress Oscar for 1998's Shakespeare in Love as Viola de Lesseps, and while she's appeared in other high profile projects, playing Pepper definitely boosted her fame significantly. Pepper debuted in Iron Man as Tony's secretary, but it became more clear that she was the one who kept his company in check, and she was also one of the few people he could trust. By Iron Man 2, she took control of Stark Industries while Tony attended to his Iron Man duties. Iron Man 3 saw her thrown into the action more by wearing the armor and getting to beat up Aldrich Killian at the end. It's unclear whether we'll see Pepper in the MCU again, but Paltrow has done a good job playing the love of Tony's life in the time we've had her.
William Hurt
The Incredible Hulk is often looked at as the black sheep of the MCU, but that doesn't mean we shouldn't recognize some of the great performances that came out of it. In this case, William Hurt as General Thaddeus Ross. Hurt earned the Best Oscar Actor in 1985 playing Luis Alberto Molina in Kiss of the Spider Woman, and earned three other nominations in the following years. Ross was previously played by Sam Elliot in 2003's Hulk, but Hurt's portrayal felt more at home in this new continuity. Just like in the comics, he was determined to capture Bruce Banner at any costs (even tossing aside his relationship with his daughter) so he could "help" his country. He was relatable, but still detestable. Moviegoers will see Ross finally return next year in Captain America: Civil War, this time around briefing the Avengers about the Sokovia Accords as the United States Secretary of State. So,Hurt will get to stretch his acting muscles beyond just being the vengeful military figure, though we don't doubt he'll still be sketchy.
Robert Redford
When it was announced that Robert Redford had been cast in Captain America: The Winter Soldier, no doubt many fans were surprised. Redford has been a Hollywood veteran since the 1960s, starring in classics like Butch Cassidy and the Sundance Kid, All the President's Men and Three Days of the Condor. While he was nominated for playing Johnny Hooker in The Sting, his Oscar win actually came from directing 1980's Ordinary People (he also was given a Lifetime Achievement Oscar in 2002). As far as his Marvel contribution goes, it was his character Alexander Pierce that was HYDRA's main representative when the terrorist organization was outed in the present, and thanks to him, he sent Cap on the run and nearly succeeded in killing millions of people. He may not have been deep in the action, but Pierce is one of the few Marvel movie villains who's interesting to watch as opposed to being dull/forgettable.
Natalie Portman
Most moviegoers may have met Natalie Portman in Star Wars Episode I: The Phantom Menace, but in the years since most of her projects have been more polished. After earning a Best Supporting Actress nomination in 2005 for her performance in Closer, she scored the Oscar for Best Actress playing Nina Sayers in 2010's Black Swan. In the MCU, she plays Jane Foster, astrophysicist and Thor's love interest. Thanks to her, Earth knows more about the Nine Realms, but she's also been of invaluable assistance to the God of Thunder, be it showing him how to be selfless in the first movie or helping take down Malekith in the second movie. She's one of the most important people in Thor's life, so hopefully Portman will be able to take the character even further in Thor: Ragnarok.
Ben Kingsley
Say what you will about Trevor Slattery in Iron Man 3, but you can't deny that Ben Kingsley played the clueless actor fantastically. Kingsley won the Best Actor Oscar in 1982 playing Gandhi's eponymous historical figure, as well as earned nominations for his roles in Sexy Beast and House of Sand and Fog. So when he was recruited to play The Mandarin, it was obviously consider a major score for the House of Ideas, and for a little bit we saw him be intimidating. However, as we all know now, Kingsley's character turned out to just be a washed-up actor who Aldrich Killian hired to pretend to be The Mandarin. There's no denying that the reveal itself was disappointing, and many would have liked to have seen him play the terrorist he was made out to be in the trailers. Still, at least he can take comfort in that Kingsley did a great job playing the goof, and his incessant rambling admittedly was fun to watch.
Benicio del Toro
Benicio del Toro didn't have a lot of screen time in Guardians of the Galaxy, but The Collector shined for brief time he was involved in Marvel's cosmic adventure. Known for movies like The Usual Suspects and The Wolfman, del Toro won the Best Supporting Actor Oscar for playing Javier Rodriguez in 2000's Traffic, and also earned another nomination three years later for 21 Grams. As The Collector, del Toro was the figure that gave the protagonists and moviegoers the inside scoop on the Infinity Stone, and his eccentricity was on full display, from his unusual gestures to his collection of random stuff from across the universe. He'll reportedly reprise The Collector in Guardians of the Galaxy Vol. 2, so ideally he'll play a bigger role next time, whether it's helping the Guardians or working against their best interest.
Jeff Bridges
While we may think of him primarily as The Dude in The Big Lebowski, Jeff Bridges has built up a diverse resume over his long acting career. In Iron Man, he played Obadiah Stane, Tony's friend/business partner who was really plotting his downfall and later stole the arc reactor to power his Iron Monger suit. Bridges won the Best Actor Oscar not long after for playing Otis Blake in Crazy Heart, though he has earned nominations for five other films. While the evil businessman trope has started to become stale in the MCU, Bridges was an intimidating and powerful figure, and it helped that Bridges was still able to instill some moments of lightheartedness in his character (simply as an act, of course). Maybe it would have been better for the franchise to keep him alive.
Connoisseur of Marvel, DC, Star Wars, John Wick, MonsterVerse and Doctor Who lore. He's aware he looks like Harry Potter and Clark Kent.
Your Daily Blend of Entertainment News
Thank you for signing up to CinemaBlend. You will receive a verification email shortly.
There was a problem. Please refresh the page and try again.