Alan Cumming Back As Nightcrawler For X-Men: Days Of Future Past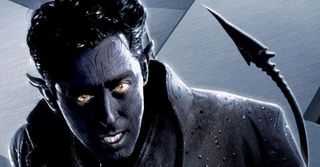 UPDATE: Alan Cumming has debunked this report. Click over there for more.
With a plotline poised to have the worlds of the X-Men trilogy and the '60s-set X-Men: First Class collide, X-Men: Days of Future Past plans to incorporate cast members from both chronologies. Many have already been attached to the project, and now Alan Cumming can be added to that list!
Cumming memorably played the shy teleporter Nightcrawler in X2, and according to X-Men: First Class's Professor X, James McAvoy, he'll be back in blue for the upcoming prequel sequel. Digital Spy brought to our attention an interview McAvoy did with Heat Radio, in which he included Cumming in a list of X-Men: Days of Future Past's ensemble.
From his tone in the audio clip (around the 4:44 mark), you can tell he doesn't realize he's just dropped a bit of info fans have been eagerly hoping for. Beyond being a beloved part of the X-Men comics, Nightcrawler was a fan favorite in X2, in part for his incredible powers and wild look, and in part because of Cumming's off-kilter charisma.
So, to sum it up, Alan Cumming (Nightcrawler) Halle Berry (Storm), Patrick Stewart (Professor X), Ian McKellen (Magneto), Hugh Jackman (Wolverine), Anna Paquin (Rogue), Shawn Ashmore (Ice Man), and Ellen Page (Kitty Pryde) from the initial trilogy are returning, as are James McAvoy (Professor X), Michael Fassbender (Magneto), Jennifer Lawrence (Mystique) and Nicholas Hoult (Beast) from X-Men: First Class. Then director Bryan Singer, who helmed X-Men and X2, is bringing in some tantalizing newcomers to the franchise including Game of Thrones' Peter Dinklage, and The Intouchables' Omar Sy. Though the roles either is playing are currently under wraps.
X-Men: Days of Future Past is slated for release on July 18th, 2014. Production is expected to begin in a few short months.
Staff writer at CinemaBlend.
Your Daily Blend of Entertainment News
Thank you for signing up to CinemaBlend. You will receive a verification email shortly.
There was a problem. Please refresh the page and try again.