Giveaway: Win Travel Kits, Bling And More From Sex And The City 2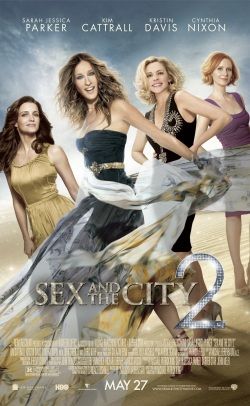 Two years ago the Sex and the City movie took the entire industry by surprise when million of fans of the series turned out to see Carrie, Samantha, Miranda and Charlotte on the big screen. The movie was an enormous hit, making more than $400 million worldwide and proving, yet again, that women love going to the movies in the summer just as much as the men do.
This time no one had better be surprised. Sex and the City 2 hits theaters on May 27 this year, and already fans of the TV show and movie are scheduling nights out with the girls to join in the fun once again. The new movie promises to bring plenty more challenges and changes for Carrie and company, from Charlotte's frustration with raising two daughters to Carrie's reunion with Aidan, but there will also be plenty of glitz and glamour when all four ladies jet off to Abu Dhabi. To celebrate all the traveling the girls are doing, plus the simple fact that Sex and the City is back, we've got a ton of prizes to give away, from designer sunglasses and a ridiculously decadent chocolate high heels to the official T-shirt and soundtrack from the movie. One lucky winner will win everything you see below.
Gayle's Chocolates Shimmering Silver Chocolate High Heel Shoes. "For the love of chocolate. Handmade in small batches since 1979."
Custom Deluxe Adventure Travel Case with Travel Candles, Cashmere Pouch/Blanket, Eye Mask Set
Crocodile Embossed Leather Passport Wallet
Ladies' Gold Foil Sunglass V-Neck Tee
Bling Stainless Steel Travel Mug
Silver Accessories Case With Rhinestone Earbuds
Mini Leather Jotter with Pen
Crocodile Embossed Leather Luggage Tag
White iPhone Case
Quick Fix Emery Boards
Pair Jee Vice Heated Orange Jubilee Sunglasses. "Jee Vice is a premium eyewear brand, creating bold sunglasses for women."
Sex and the City 2 Soundtrack. "Features brand new music from Alicia Keys, Jennifer Hudson, Leona Lewis, Cee Lo, Dido, and more. Available May 25th."
One runner-up will receive everything you see above except for the travel case, passport wallet, and chocolate high heels. How do you enter? Two ways. Simply follow these instructions either using Facebook or Twitter.
To Enter With Twitter: Log in to your twitter account, follow us @cinemablend and then tweet this: "@cinemablend I'm Carried away! Enter me to win the Sex and the City 2 prize pack."
To Enter With Facebook: Log in to your Facebook account and "Like" our Facebook Fan Page and then simply leave a comment on this contest post.
One winner and one runner-up will be selected at random. Entries will be accepted until 11:59 PM on Monday, May 31st, 2010.
The winner will then be contacted via Twitter and asked to provide their mailing addresses (no P.O. boxes please). Prize packs will be mailed directly to the winner. No purchase necessary. Failure to comply with the rules will in disqualification and subsequent mockery. Good luck!
(Here come the serious rules)
RELEASE AND INDEMNIFICATION:
BY ENTERING THE SWEEPSTAKES, ENTRANTS RELEASE AND HOLD HARMLESS WARNER BROS. ENTERTAINMENT INC. AND EACH OF ITS RESPECTIVE PARENTS, DIVISIONS, AFILIATES, SUBSIDIARIES, AGENTS AND ADVERTISING AGENCIES (COLLECTIVELY, "WBEI") FROM AND AGAINST ANY AND ALL LOSSES, DAMAGES, RIGHTS, CLAIMS, AND ACTIONS OF ANY KIND ARISING IN WHOLE OR IN PART, DIRECTLY OR INDIRECTLY, FROM THE SWEEPSTAKES OR PARTICIPATION IN ANY SWEEPSTAKES-RELATED ACTIVITY (INCLUDING WITHOUT LIMITATION THE REMOVAL FROM THE SITE OF, OR DISCONTINUATION OF ACCESS TO, ANY MATERIALS), OR RESULTING DIRECTLY OR INDIRECTLY, FROM ACCEPTANCE, POSSESSION, USE, OR MISUSE OF ANY PRIZE AWARDED IN CONNECTION WITH THE SWEEPSTAKES, INCLUDING WITHOUT LIMITATION PERSONAL INJURY, DEATH, AND/OR PROPERTY DAMAGE, AS WELL AS CLAIMS BASED ON PUBLICITY RIGHTS, DEFAMATION, AND/OR INVASION OF PRIVACY.
LIMITATION OF LIABILITY:
IN NO EVENT WILL THE WBEI BE RESPONSIBLE OR LIABLE FOR ANY DAMAGES OR LOSSES OF ANY KIND, INCLUDING WITHOUT LIMITATION DIRECT, INDIRECT, INCIDENTAL, CONSEQUENTIAL, OR PUNITIVE DAMAGES, ARISING OUT OF ANY ACCESS TO AND/OR USE OF THE SWEEPSTAKES SITE, THE DOWNLOADING FROM AND/OR PRINTING MATERIAL DOWNLOADED FROM THE SWEEPSTAKES SITE, THE REMOVAL FROM THE SWEEPSTAKES SITE OF, OR DISCONTINUATION OF ACCESS TO, ANY MATERIALS, OR THE ACCEPTANCE, POSSESSION, USE, OR MISUSE OF, OR ANY HARM RESULTING FROM THE ACCEPTANCE, POSSESSION, USE OR MISUSE OF, OR PARTICIPATION IN, ANY PRIZE AWARDED IN CONNECTION WITH THE SWEEPSTAKES. WITHOUT LIMITING THE FOREGOING, THE SWEEPSTAKES, ALL PRIZES, AND ALL MATERIALS PROVIDED ON OR THROUGH THE SITE ARE PROVIDED "AS IS" WITHOUT WARRANTY OF ANY KIND, EITHER EXPRESS OR IMPLIED, INCLUDING WITHOUT LIMITATION THE IMPLIED WARRANTIES OF MERCHANTABILITY, FITNESS FOR A PARTICULAR PURPOSE, AND NON-INFRINGEMENT.
OFFICIAL SYNOPSIS
Visit the movie's official site for more info.
Your Daily Blend of Entertainment News
Staff Writer at CinemaBlend