Isabelle Furhrman And Isabelle Huppert Join Suspiria Remake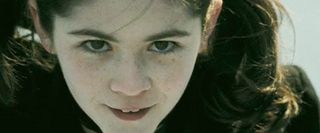 Just in time to sell foreign distribution rights at Cannes, Crime Scene Pictures announces enticing cast additions to their remake of Dario Argento's Suspiria. Isabelle Furhman, who terrorized audiences in Orphan and The Hunger Games as a pint-sized psychopath, and heralded French actress Isabelle Huppert have joined the international cast that includes English, Academy Award-nominee Janet McTeer (Albert Nobbs), Swedish star Michael Nyqvist (Girl with the Dragon Tattoo) and German ingénue Antje Traue (Pandorum).
Like the 1977 original, the plot will center on Suzie, an eager American ballerina who travels to Europe to attend a world-renowned ballet academy. But when a string of grisly murders disrupts the once quiet campus, Suzie realizes that there's a diabolical organization hiding within the ballet school's walls. Furhman will star as Suzie, a role to which Natalie Portman was once attached. What parts the others will play is currently unknown, but it seems likely Huppert and McTeer, with their air of control and incredible poise, will play teachers at the school, and the lovely Traue may play one of the—possibly ill-fated—students.
Writer-director David Gordon Green (All the Real Girls, Pineapple Express) will make his first foray into horror with this project, helming a script from sound mixer turned screenwriter Christof Gerbert. The pair has collaborated since 1998, when Gerbert did sound design for Green's short film Physical Pinball, so while the latter has no screenwriting experience to speak of, we can assume he and Green will be working in close collaboration. Green's trusted cinematographer Tim Orr has also signed on, along with Oscar-winning costume designer Milena Canonero (Marie Antoinette, Chariots Of Fire, A Clockwork Orange). Suspiria is set to go into production this September, and with a compelling cast and a curious crew, all that remains to be seen is if horror audiences will bite on a remake of such a peculiar classic.
Your Daily Blend of Entertainment News
Staff writer at CinemaBlend.