Krysten Ritter Confirmed For Veronica Mars Movie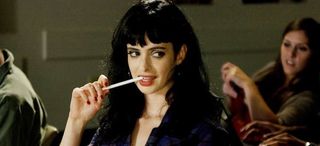 Before she was the titular "B" in Apartment 23 and Jesse Pinkman's girlfriend Jane in Breaking Bad, Krysten Ritter played the recurring role of Gia Goodman in the second season of Veronica Mars. A little bit flaky and a lot adorable, Ritter's Gia brought style and some much needed perkiness to Season 2, in addition to being an in for Veronica to snoop around Steve Guttenberg's Woody Goodman when the need arose. Ritter is the latest to join the cast of the Veronica Mars movie, which is just finishing up pre-production.
Rob Thomas announced the news today, noting that Ritter's casting brings the confirmed cast up to fifteen. Earlier today, we shared the news that Brandon Hillock (Deputy Sacks), Kevin Sheridan (Sean Friedrich) and Jonathan Chesner (Corny) were all confirmed to appear in the movie, joining previously confirmed Tina Majorino, Francis Capra, Sam Huntington, Christine Lakin, Amanda Noret, Percy Daggs III, Chris Lowell, Enrico Colantoni, Kristen Bell and Jason Dohring. If you count those up, that's fourteen, but we're pretty sure Thomas is also counting the backer who pledged $10k and earned themselves a part on the film. No official word yet on Daran Norris (Cliff), Ken Marino (Vinnie Van Lowe) or Ryan Hansen (Dick), but hopefully it's just a matter of time before they're cast.
Ritter's been keeping busy since getting her big break on Veronica Mars. in addition to Breaking Bad and Don't Trust the B In Apartment 23, she played Lucy in Gilmore Girls, recurred on 'Til Death and starred as Lilly in Starz's Gravity. She also put on some fangs for Amy Heckerling's Vamps. Her Coming up, in addition to Veronica Mars, she was recently cast in Tim Burton's Big Eyes.