Les Miserables Cast, Catherine Zeta-Jones And Jennifer Hudson Will Perform At The Oscars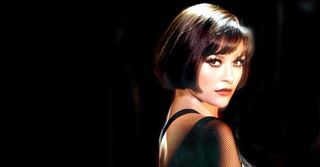 The Oscar ceremony has always had a fondness for musicals, even more so than the awards themselves. Last year there wasn't a single musical nominated for Best Picture, but Billy Crystal was still back as host with his traditional musical opening number, and we can almost certainly expect the same from host Seth MacFarlane this year. But with both a Best Picture nomination for Les Miserables and the 10th anniversary of Chicago's Best Picture win to celebrate, there are even more musicals than usual at this years ceremony-- and now word of a whole new tribute to honor them.
We had learned previously that the Chicago cast would reunite onstage at Sunday's awards, but now Deadline confirms that Catherine Zeta-Jones will be reprising her Oscar-winning role as Velma Kelly, and fellow Best Supporting Actress statue winner Jennifer Hudson will reprise her showstopper "And I Am Telling You" song from Dreamgirls. They'll be joined onstage for full-fledged musicals tribute by seven cast members from Les Miserables, including nominees Hugh Jackman and Anne Hathaway plus Russell Crowe, Eddie Redmayne, Helena Bonham Carter, Samantha Barks and Aaron Tveit. Who wants to bet they find a way to work Hathaway's Fantine into "One Day More" and blow the roof off the place?
In the extended interview with Deadline, Oscars producers Neil Meron and Craig Zadan talk about the theme of this year's show-- "music of the movies"-- and how MacFarlane as host will be a throwback to the days of Bob Hope and Johnny Carson. The combination of musical numbers and Bob Hope vibe feels like strong evidence that this year's Oscars won't be futilely trying to appeal to younger viewers, and Zadan and Meron are prepared to simply embrace the old-fashioned showmanship that's always produced the best shows. Is it possible that, two years after the Franco-Hathaway disaster and a year after Billy Crystal's last-minute substitution, we'll finally have an Oscars show that feels confident and fun?
Staff Writer at CinemaBlend
Your Daily Blend of Entertainment News
Thank you for signing up to CinemaBlend. You will receive a verification email shortly.
There was a problem. Please refresh the page and try again.