Pride And Prejudice And Zombies Finally Headed Toward Production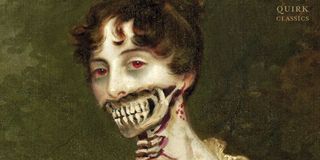 Four years have passed since Hollywood first made public its intentions of seeing the parody novel Pride and Prejudice and Zombies turned into a movie. Now, at long last it seems this genre mash-up of horror and romance is finally making its way to shooting.
Dread Central reports out of the European Film Market that the project is finalizing casting and prepping for production. This latest incarnation of Pride and Prejudice and Zombies boasts a screenplay by Academy Award-nominated writer-director David O. Russell, and will be helmed by Burr Steers, whose last directorial efforts were the Zac Efron double-header of 17 Again and Charlie St. Cloud. Set to star as Elizabeth Bennet is the lovely Lily Collins of Mirror Mirror and The Mortal Instruments: City of Bones.
No specifics on when principal photography might begin have been announced just yet, but this is the closest the Pride and Prejudice and Zombies movie has come to being a reality in years. Based on the cheeky Seth Grahame-Smith novel that re-imagines Jane Austen's classic novel with a heavy dose of zombies and martial artistry, the project was first announced in the winter of 2009. At the time, Russell was rumored to direct, and Natalie Portman was poised to play Lizzie Bennet the Zombie Slayer. But both were just the first in a long list of could-be helmers and leading ladies.
After Russell eventually left the project, there was a scramble for a new director that threw names like Neil Marshall (The Descent), David Slade (30 Days of Night), Matt Reeves (Cloverfield), directing duo Phil Lord and Chris Miller (The Lego Movie), Mike White (Year of the Dog), Mike Newell (Four Weddings and a Funeral) and Jonathan Demme (The Silence of the Lambs) into the mix. From this, White emerged as Lionsgate's suprising pick in the fall of 2010. But by the following spring, White was out, blaming scheduling issues. Next Fright Night director Craig Gillespie was attached, but he too bailed before the year was out.
Finally, Steers signed on in May of 2013, and Collins was set to star. Before her, Emma Stone and Blake Lively were considered for Pride and Prejudice and Zombies' sassy, ass-kicking heroine. Both reportedly turned the part down. Why is unknown. It'd be easy to assume they'd seen either Dark Shadows or Abraham Lincoln: Vampire Hunter--both penned Pride and Prejudice and Zombies author Grahame-Smith--and lost hope for the project. However, neither of these box office bombs had hit theaters just yet.
Thankfully, it seems Lionsgate has been smart enough to take the basic premise of Grahame-Smith's novel, which works surprisingly well, and dropped the author. Russell, is a sharp screenwriter who won major acclaim for his last adaptation, Silver Linings Playbook. So, Pride and Prejudice and Zombies has a solid base on which to build. Are Steers and Collins the combination this long in-development project needs to bring it to life? We'll soon see.
Your Daily Blend of Entertainment News
Staff writer at CinemaBlend.