See Christopher Walken As A Woman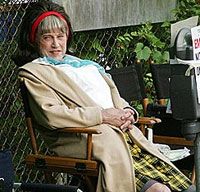 The in-production movie version of the popular stage play Hairspray may sound like another boring musical, but it's a boring musical with Christopher Walken. Not only will Walken get to showcase his considerable dancing skills in the film, but he'll do it dressed in drag. That's something you can't afford to miss.
People magazine scored a snapshot of Walken hanging out on the Hairspray set in full female regalia, and if he really looks like that in the film, then it'll be worth the price of admission.
I've posted a small version of the pic to your right, to see it bigger click over to People here.
Your Daily Blend of Entertainment News