Star Wars: The Force Awakens Earned Five 2016 Oscar Nominations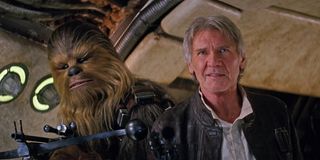 The decision not to screen Star Wars: The Force Awakens ahead of its release meant that it was always going to be hard for it to receive award recognition. But to the Academy's credit, they looked to honor the box office behemoth with several nominations for the 88th Academy Awards next month, which included another nod for the living legend that is John Williams.
All in all, Star Wars: The Force Awakens received five Oscar nominations in the fields of:
Sure, most of these are in traditional Sci-Fi categories, but it's still good to see The Force Awakens being rightly lauded for its efforts.
In fact, if history is to go by, the movie has a good chance of taking these awards home. Both Star Wars: A New Hope and The Empire Strikes Back won Sound Mixing Oscars, while A New Hope also claimed Film Editing, Visual Effects, Costume Design and Art Direction – Set Decoration, as well as a Special Achievement Award for its Alien Creature and Robot Voices, too. The franchise's Oscar history isn't as bad as you'd assume, with the six previous films receiving 25 Academy Award nominations, 10 of which they actually won.
What are the chances of Star Wars: The Force Awakens taking home any further gongs next month though? Well, its best shot is in the Original Score category, where John Williams is going up against Sicario's Johann Johannsson, Carol's Carter Burwell, Bridge Of Spies' Thomas Newman, and The Hateful Eight's Ennio Morricone. As is usually the case with the Oscars, each nominee deserves their place in the list, having added mood and rhythm to the films with their work.
But, if we're being honest, this award is between two stallions of cinema, who have molded many minds with their stunning slices of music over the last half a dozen decades. It's a clash of the titans. It's Morricone vs. Williams.
John Williams has so far won five Academy Awards for work on Fiddler On The Roof, Jaws, Star Wars: A New Hope, E.T. the Extra-Terrestrial, and Schindler's List. Morricone has yet to win one, having been nominated on five separate occasions. Or, the Academy could just blindside us all by going with another of the worthy nominees instead.
Looking at the other Star Wars nominations, it's going to be hard for The Force Awakens to wrestle the Visual Effects gong away from Mad Max: Fury Road, which the Academy looks like it rightly wants to honor having given it Best Director for George Miller and Best Picture nods. The likelihood of Fury Road winning these awards is, unfortunately, very slim. Instead, the Academy is likely to give it the awards in "lesser" categories, like Film Editing, Sound Mixing and Sound Editing, as well as Visual Effects.
Five nominations seems about right for Star Wars: The Force Awakens, though. Sure, I was dreaming that Daisy Ridley might sneak a more-than-deserved Best Supporting Actress nominee, while a Best Picture nod would have been completely understandable, too. But, simply gaining five nominations feels like a win considering how huge a film Star Wars: The Force Awakens has become, and how little Disney have been coveting them.
Your Daily Blend of Entertainment News