The 12 Most Popular Halloween Costume Movie Character Porn Searches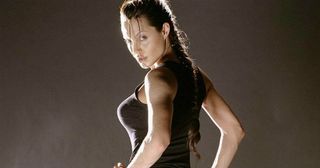 If you're anything like us, then you probably have already started getting into the Halloween spirit. Perhaps you've bought a great costume, or maybe you've binged on candy, or maybe you have even marathoned your favorite horror movies. No matter what your preference, the fact remains that in a few days time we will celebrate the spookiest holiday of all.
However, not everyone's method of celebrating is quite so wholesome. Pornhub recently released some interesting analytic data, and it turns out that searches for pop culture themed costumes on the site have increased by an insane margin during the Halloween season. With that in mind, we have compiled a list of the top 12 most popular movie character porn searches. Check out the list and see if any of your favorites made the cut!
12. Jessica Rabbit
When it comes to cartoon characters, few have become more inextricable from the phrase "sex symbol" than Jessica Rabbit. Inspired by real life pin-up girl, Vikki Dougan, the busty (albeit impossibly proportioned) icon from Who Framed Roger Rabbit? has developed a reputation as one of the most instantly recognizable animated female characters of all time, and it seems that the online community has certainly taken that idea to heart.
11. Batgirl
Even in the wake of the backlash towards the Batgirl/Batman sex scene in The Killing Joke, it seems that there's still plenty of people out there who want to search her name. Of course, this does not surprise us. Barbara Gordon is the embodiment of female strength and compassion. She operates on an equal playing field with The Caped Crusader, and there's something inherently attractive about someone who can go toe-to-toe with Batman.
10. Princess Leia
Depending on how old you are, there's a very real possibility that Princess Leia was your first real crush growing up. The character has become an icon in the realm of sci-fi, and the gold bikini she wears during the events of Return of the Jedi has become one of the most common cosplay sights at conventions all over the country.
9. Snow White
Okay, so this is one of the more unsettling entries on the list. It seems that the fairest of them all has become an incredibly popular porn costume search in recent weeks, and Snow White has actually become the only Disney princess to break into the Top 10 on PornHub.
8. Black Widow
There's a ton to admire about Natasha Romanoff, a.k.a Black Widow. She's smart, she's tough and she has overcome some serious adversity in her life. The fact that she looks damn good kicking serious ass and has kept the male Avengers in line for years only makes the character that much more appealing to people. With Scarlett Johansson set to play this beloved character for the foreseeable future, we have a distinct feeling that she will remain a popular costume choice for quite some time.
7. Spider-Man
When it comes to men, brawn isn't the only thing with sex appeal; many people also put a huge premium on brans and wit. Luckily, Spider-Man has both of those qualities in spades. It seems that people within the online porn community have really taken a shine to Peter Parker, a.k.a your friendly neighborhood Spider-Man, this Halloween season, as he has garnered the No. 7 spot as the first male character on the list.
6. Supergirl
Kara Zor-El is having a phenomenal year, isn't she? Not only has Supergirl become one of the best superhero shows currently available on television, but it seems that the popularity of the character on The CW has translated into some serious PornHub popularity. Spoiler Alert: she's even more popular than her cousin, according to the data.
5. Captain America
If muscle-bound men are your thing, then there really are few male pop culture icons that can compete with Steve Rogers, a.k.a Captain America. He's the sort of character who makes you wish that everyone could go through Project Rebirth. Admit it, the moment he bicep curled that helicopter during the events of Captain America: Civil War, you immediately felt ready to sign up and fight against the Sokovia Accords.
4. Lara Croft
Until we find out whether or not there is a handsome face hiding underneath Master Chief's helmet, Lara Croft will remain the pinnacle of video game sex symbols of the foreseeable future. The scantily-clad Tomb Raider protagonist has become a symbol of female empowerment and sexuality over the years, and the character has only become more popular as the games have treated her with increased levels of respect and maturity.
3. Wonder Woman
There's no other DC heroine more iconic or recognizable than Diana Prince, a.k.a Wonder Woman, and it seems that the average PornHub user has recognized that fact. While she's inherently a feminist symbol, Wonder Woman has also become a walking embodiment of proud sexuality, particularly after her live-action depictions by Lynda Carter, Adrianne Palicki and Gal Gadot.
2. Batman
Because there's absolutely nothing sexier than the strong, silent type. It's been almost eight decades since Batman first debuted within the pages of DC Comics, and his sex appeal has never waned. There's something about a brooding, self-made man that just generally seems to attract people, and the fact that he's a billionaire only sweetens the deal. It's the ultimate fantasy indulgence. Oh, and don't forget the car; chicks dig the car.
1. Harley Quinn
This one really shouldn't surprise anybody. Harley Quinn has existed since the 1990s as an incredibly popular character in the realm of DC Comics, but it's Margot Robbie's portrayal of the villainess in Suicide Squad that really turned her into a mainstream sex symbol. Maybe it's the outfit, or perhaps people simply have an instinctive affinity for all things bad. Whatever the reason, Ms. Quinzel has handily become the most popular pop culture porn search of the current Halloween season.
Your Daily Blend of Entertainment News
Originally from Connecticut, Conner grew up in San Diego and graduated from Chapman University in 2014. He now lives in Los Angeles working in and around the entertainment industry and can mostly be found binging horror movies and chugging coffee.