Thanos Is On Earth In The Avengers: Infinity War Trailer, Check Out How Intimidating He Looks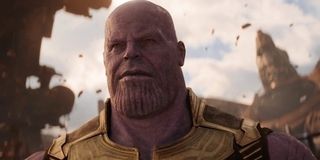 Ever since he smirked at the camera after The Avengers' main events, Thanos has been presented as the overarching threat of the Marvel Cinematic Universe. Like his comic book counterpart, he seeks to conquer the universe (and potentially court Death itself) using the power of the six Infinity Stones, but over the last five years, the Mad Titan has looming in the shadows, content to let others do his dirty work or planning his next moves. That changes next year with Avengers: Infinity War, where he'll finally step into the spotlight and prove why he's one of the most powerful beings in the universe. Those who attended the MCU presentations at D23 and San Diego Comic-Con earlier this year got a taste of just how dangerous Thanos is, but now thanks to the first Infinity War trailer, the general public can finally see for themselves just how incredible he looks while he's wreaking havoc on Earth.
Following Loki and Ronan the Accuser's failure to obtain Infinity Stones in The Avengers and Guardians of the Galaxy respectively, Thanos decided in Avengers: Age of Ultron to take matters into his own hands. With the Infinity Gauntlet around his hand, he set out to retrieve the Infinity Stones, and now he's finally arrived on Earth with The Black Order and the other minions who serve him. For the few of you who thought the Mad Titan would fulfill his mission through diplomacy and reasoning, as you'll will quickly learn from his narration in the first Avengers: Infinity War trailer, that's hardly the case. He is not messing around.
Until now, the majority of our time with Thanos has been with him lounging in his floating La-Z-Boy floating space throne, but thankfully he'll be mobile during Avengers: Infinity War. The time has finally come for him to show the MCU's heroes why everything and everyone they have battled over the years was just preparation for his invasion. And lest you think that Thanos is all talk and no action, as you can see below, he'll accomplish at least one-third of his goal by retrieving two Infinity Stones.
Judging by their coloring, it appears that Thanos successfully obtained the Power Stone and Space Stone. The Power Stone was last seen being secured in the Nova Corps' vault at the end of Guardians of the Galaxy, but clearly that wasn't enough to keep it protected from the purple-skinned warlord. As for the Space Stone, it was safely locked away in Asgard for years, but before the city was destroyed in Thor: Ragnarok earlier this month, Loki stopped to look at the glowing cube, and while not shown on screen, he definitely took it with him. It's still not quite clear if Loki will willingly give the Tesseract to Thanos (they were in cahoots during The Avengers, after all) or if he's somehow coerced into doing so, but either way, it won't be in his possession for much longer. And given that someone was seen starting to rip the Mind Stone from Vision's head in the trailer, it seems likely that Thanos will soon have three Infinity Stones to call his own.
As the latter half of the Avengers: Infinity War trailer showed, Thanos has a mighty army that will use untold amounts of destruction across our world. Alas, aside from the Mad Titan punching Iron Man square in the face, we don't see any action shots of him, but not to worry. Besides boasting incredible strength and other mighty abilities, Thanos' power will grow with each Infinity Stone he collects. In the D23 footage, he was seen defeating the likes of Star-Lord and Doctor Strange, dominating a battlefield stretching for miles, and most impressively of all, destroying an entire planet. Rest assured, Thanos will be a formidable foe for all of the MCU's heroes, and with Josh Brolin confirmed to be reprising the villain in 2019's Avengers 4, don't be surprised at all if his reign of terror continues into a second movie.
Avengers: Infinity War will be released in theaters on May 4, 2018. To find out what other projects the MCU has lined up, look through our Marvel movies guide.
Connoisseur of Marvel, DC, Star Wars, John Wick, MonsterVerse and Doctor Who lore. He's aware he looks like Harry Potter and Clark Kent.
Your Daily Blend of Entertainment News
Thank you for signing up to CinemaBlend. You will receive a verification email shortly.
There was a problem. Please refresh the page and try again.