11 Iconic Children's Movies On Netflix To Show Kids During Quarantine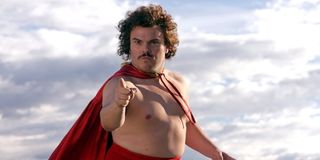 As a parent, I can personally attest to the fact that the hardest part of working from home is keeping the kids occupied. Sure, some have school, but now there's a whole other 90% of the day to keep them occupied and nowhere to responsibly send them. Luckily, we live in an age of streaming, and there's no shortage of iconic children's films worth watching on Netflix right now.
So whether you're looking for a great movie to watch with your children, or just to gain a couple hours of solitude, here are some fantastic kids movies it's worth having your own child watch. A few are equally as enjoyable for adults, so be sure to save those for when the work day is done.
Good Burger (1997)
Saturday Night Live's Kenan Thompson and Kel Mitchell team up for the film adaptation of a popular All That sketch that's way better than it has any right to be. Good Burger is a great one to show kids strictly for comedy, but also to highlight the importance of supporting small business restaurants who must frequently contend with major chain restaurants.
Tarzan (1999)
When it comes to classic Disney animation, Tarzan is certainly left out of the top contenders. With that said, Disney's take on the story of Tarzan is still pretty great (even if the Frozen connection isn't legit), as is the original music provided by the legendary Phil Collins. Tarzan is certainly a great one to watch as a family, and not too scary that the littlest one can't watch either.
National Treasure (2004)
This Nicolas Cage-led movie is quite a rarity, in that how often does Nicolas Cage do anything that would be marketable to kids? Add the caveat that it would have to be good, and National Treasure is that movie. It's the perfect adventure movie for all ages, and there's just enough history with "stealing the Declaration of Independence" injected to make it quasi-educational. Hey, with kids strictly on e-learning, you gotta fit in that history wherever. Watch this one before it hops over to Disney+!
Spy Kids (2001)
Two kids find out their parents are spies and have to rescue them from an evil mastermind in the Robert Rodriguez-directed Spy Kids. If the first one is a hit, then the family can move on to the 3rd and 4th films, though 2 is missing from this Netflix lineup. Personally, I think the first offers the peak enjoyment for most adults, though my favorite in my younger years was always Spy Kids 3-D: Game Over.
Stuart Little (1999)
Based on the classic novel of the same name, Stuart Little stars Michael J. Fox as an anthropomorphic mouse looking for a home. He's adopted by a human family, and while they're fine with raising a mouse in the family, his younger human brother George isn't a fan. Obviously it all works out in the end, but this one has just enough tension and sadness in the mix to tug at the heartstrings of any adult and child. Come for the drama, stay to see that missing painting that ended up being discovered years later by a historian watching the movie!
Hook (1991)
Arguably the most iconic movie on this list, Steven Spielberg's Hook is a win for all ages. The sequel to Peter Pan has heart, a stellar cast and a great score from John Williams. For any film buff, this is the perfect film to show your children, if only so you can appreciate the majesty of it. It'll probably go over the head of most children, but they'll still enjoy the action-packed parts.
Monster House (2006)
It's hard to make a good horror film, let alone one that is also suitable for children, yet still scary. Monster House is one of those rare films that hits all the marks, with three children set out to destroy a house possessed by a wicked soul. If that sounds intense, it kind of is, and I wouldn't necessarily recommend it for more sensitive children. Those looking to get scared, but aren't old enough to be really scared, should get a kick out of this one though, so check it out.
Chitty Chitty Bang Bang (1968)
I'll be candid, is Chitty Chitty Bang Bang a classic children's movie? Yes, absolutely, without a doubt. At the same time, this is a movie my parents tried to show me growing up, and try as they might, I could never get into it. With that said, my toddler loves music, and perhaps the magic and whimsy of this film will engross her and other children in a way it never could for me.
Space Jam (1996)
Michael Jordan was a once in a generation talent. While you could try to prove that to your child with old replays of basketball games of an ESPN 30 For 30, Space Jam is probably the easiest way to drive the point home. Seeing MJ hoop with Bugs and the gang in one of the most important games in history is a blast. Plus, who doesn't love a good Bill Murray cameo, or having to try and explain why Jordan inexplicably left basketball to try and be a baseball pro?
Richie Rich (1994)
Macaulay Culkin stars as the kid who has it all... except friends. That's really not the point of the movie, as it gets kind of dark with some murder plots and whatnot, but it's still quite enjoyable for kids to watch. This is especially true for anyone whose kids have seen Home Alone, because I always thought it was a trip to see Kevin McAllister in any other movie when I was growing up.
Nacho Libre (2006)
Back at its release, Nacho Libre suffered some harsh takes from critics. While the movie did not live up to the hype of Jared Hess' debut Napoleon Dynamite, it's still a funny film. Jack Black is what really makes Nacho Libre, and while I wouldn't say this performance in a children's film outranks what he did in School Of Rock, it's still a great movie to watch with kids when everyone is just trying to laugh.
As previously mentioned, all of these iconic children's movies are available to check out on Netflix (opens in new tab). Continue to stick with CinemaBlend for more film recommendations while in quarantine, and for the latest news happening in the world of television and movies.
Your Daily Blend of Entertainment News
Mick likes good television, but also reality television. He grew up on Star Wars, DC, Marvel, and pro wrestling and loves to discuss and dissect most of it. He's been writing online for over a decade and never dreamed he'd be in the position he is today.
Your Daily Blend of Entertainment News
Thank you for signing up to CinemaBlend. You will receive a verification email shortly.
There was a problem. Please refresh the page and try again.