8 Movie Or TV Franchises Sophie Turner Would Be Perfect For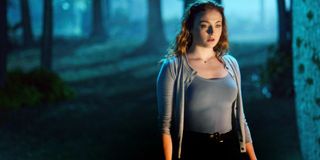 CinemaBlend is partnering with PIA VPN to bring you fresh content to stay in and stream with each day. We're also offering a special 76% discounted rate for a limited time only. You can sign up for the package with PIA here. (opens in new tab)
Sophie Turner grew up on one of the most popular television series of all-time. Being on Game of Thrones likely took up a lot of her time, which may have prevented her from branching out into other film and television worlds. However, Sophie Turner did manage to join one of the biggest franchises with Marvel's X-Men.
Last summer, Turner once again took on the role of Jean Grey in the Dark Phoenix movie. Appearing in X-Men movies and on Game of Thrones has helped establish Turner as an actress who can handle the pressures of starring in big franchises. Now that Game of Thrones is over, Turner has a lot more opportunities to make appearances on major hit films and movies, and I would love to see her test her acting skills in other film projects.
I composed a list of some film franchises and TV series that I think Sophie Turner could really add her unique talents to and bring a new dynamic to the project.
Fantastic Beasts/Harry Potter
Fantastic Beasts: The Crimes of Grindelwald kind of played fast and loose with the canon Harry Potter storylines, so that opened the world up to do basically whatever with the future of the Harry Potter movies and the Fantastic Beasts world. Sophie Turner could play a Weasley, a family member of Lily Evans, and even a third Scamander sibling. There was only mention of Theseus Scamander (Callum Turner), but maybe down the line a surprise sister will appear in the form of Sophie Turner. There are so many ginger Harry Potter character possibilities with Turner, but she could also play a non-ginger role.
Fantastic Beasts is still finding itself, and that leaves room for a wide wizarding world of opportunities. Sophie Turner is best known for her dramatic roles, but in Fantastic Beasts could allow her to portray a more colorful character. She could easily take on a quirky wizard role and give the role a bit of drama, lots of flare, and some razzle-dazzle. We also never know if J.K Rowling may decide to expand the Harry Potter world to include more prequels or sequels set far in the future. Sophie Turner could really flourish as a magical being in the Fantastic Beasts and Harry Potter world.
The Hunger Games
Jennifer Lawrence shot to super stardom from her role as Katniss Everdeen in The Hunger Games movies. She played the brooding hero well, and Sophie Turner could play a role in Suzanne Collins' universe just as well. There is an upcoming Hunger Games prequel book called The Ballad of Songbirds and Snakes that focuses on a teen President Coriolanus Snow, played by Donald Sutherland in the original Hunger Games movies. It was recently announced that the prequel book will become a movie.
The book follows Snow as a mentor to a girl from District 12. You know who would be great to play this girl? Sophie Turner. Well actually, we don't know much about the character yet, but if we had to guess, she'll probably be a lot like Katniss, which means a dark personality, intelligent, and resourceful. These are traits that Turner portrays very well on screen.
Disney Live Action Remakes
I think most of us can agree that we've been underwhelmed by Disney's live adaptations of their animated films. However, they made the house that Mickey Mouse built tons of money. They're not going anywhere. We've already had remakes of Beauty and the Beast, Cinderella,and an upcoming Little Mermaid movie. It's time for a Sleeping Beauty remake with Sophie Turner.
Honestly, there is a reason why there are these Maleficent movies and not a Princess Aurora one, and it's because Aurora isn't the most fascinating princess, but this can all change with some reinvention. I'm just spitballing, but turn Aurora into a badass warrior who just happens to prick her hand while fighting a dragon? I don't know, completely changing the story worked for Snow White and the Huntsman, right?
Killing Eve
I would love to see Sophie Turner play an assassin rival for Villanelle (Jodie Comer). Sansa Stark grew into a semi-dark character due to the circumstances and violence that she had to undergo throughout Game of Thrones.I would like to see Turner play a dark character by design. She could play a sociopath that has no remorse in Killing Eve.
Sophie Turner, Jodie Comer, and Sandra Oh could be one stylish and intriguing group. One minute Turner's character could seem sweet and innocent, then wham, slit your throat. It could be a very fun character to watch.
Batman
Hear me out before you list the hundred and one reasons why I'm wrong about having Sophie Turner join the Batman franchise as either Poison Ivy or Batgirl. Batgirl is a natural fit for Sophie Turner because she has an earnest quality to her acting that could work well for a character that's a young woman trying to figure out what it means to be a superhero.
Poison Ivy is a very sexy character that may not fit Sophie Turner's current on-screen reputation, but with the right direction, she could be a great foil to Robert Pattinson's Batman in a future movie and a very sexy villain.
The Conjuring
Sophie Turner isn't a stranger to the horror film genre. She appeared in Another Me, a horror thriller about doppelgangers. Because Sophie Turner has some experience in the scary movie genre, she might be a good fit for The Conjuring series.
The Conjuring movies have been expanding beyond the original movies to include a few spin-off series like the Annabelle movies. I would love to see Sophie Turner appear in another Conjuring sequel or one of the spin-off movies. Something tells me that Turner could excel at playing an emotionally depleted character who finds her strength to combat monsters.
The Boys
Some of the superheroes that The Boys parody are the X-Men characters. In The Boys comics, they're called the G-Men. There is a character called Silver Kincaid that's a parody of Jean Grey and Emma Frost. How cool would it be if Turner played a parody version of her Jean Grey character in The Boys.
It would be a great inside joke and just fun stunt casting. I would love to see her have fun with the crash and burning of The Dark Phoenix.
It would be a great inside joke and just fun stunt casting. I would love to see her have fun with the crash and burning of The Dark Phoenix.
Jumanji
One of the best things about the Jumanji world is that it lets the main actors play hyper exaggerated characters. I could easily see Sophie Turner playing some wacky, evil scientist character in a future Jumanji movie.
It might also be nice for her to get to appear in a movie with her brother-in-law Nick Jonas. Jumanji is a franchise that has a lot of fun, so this would be a role that let's Turner explore her comedic side.
If you can't wait to see more of Sophie Turner, she currently appears in the Quibi series Survive.
Your Daily Blend of Entertainment News
Spent most of my life in various parts of Illinois, including attending college in Evanston. I have been a life long lover of pop culture, especially television, turned that passion into writing about all things entertainment related. When I'm not writing about pop culture, I can be found channeling Gordon Ramsay by kicking people out the kitchen.