6 Marvel Characters Alison Brie Would Be Perfect To Play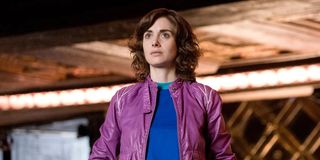 An actress with a career as versatile as Alison Brie (known for cult TV comedies like Community; highbrow, award-winning dramas like Steven Spielberg's The Post; and her husband Dave Franco's creepy directorial debut The Rental) would have been expected to be cast in a superhero film by now. While you could technically say she was in a Batman movie after voicing the bipolar Unikitty opposite Will Arnett's send-up of the Dark Knight in The LEGO Movie franchise, it is really in something like the Marvel movies which we would love to see her spread her wings.
There was a time, however, when the 37-year-old Hollywood native was rumored for the title role of the upcoming Disney+ exclusive series She-Hulk before it went to Emmy-winner Tatiana Maslany ultimately. I would actually not be surprised if said casting rumors turned out to be created by fans unaware that Alison Brie was the voice of Black Widow in the Marvel Avengers Academy video game from 2016. Even so, I can empathize with anyone who longs to see her take on an unclaimed character for a live-action entry into the Marvel Cinematic Universe.
That being said, there is a wonderfully vast variety of characters bred from the pages of Marvel Comics who would be idea for Alison Brie to breathe life into for a movie (or TV show, even) as part of the MCU continuity. The following are our top six choices for her, starting with one whom the actress has already been through plenty of the necessary training to prepare for.
Songbird
Melissa Gold (better known these days by her current alias Songbird) is a character who has worn multiple hats, such as an Avenger, a founding member of the Thunderbolts, and even an aspiring singer - a talent that her super-enhanced vocal chords lend to beautifully. Yet, when she first debuted in Marvel Comics in 1979, she was a supervillain who went by the name "Screaming Mimi' as part of the Grapplers - a team of female professional wrestlers who moonlighted as criminals.
While playing a reformed criminal with superhuman vocal abilities would be new territory for her, Alison Brie knows a thing or two about old school rumbles in the ring from her starring role on the 1980s-set Netflix series GLOW, which stands for "Gorgeous Ladies of Wrestling."
Aurora
GLOW's Ruth Wilder is not the only lead character from a Netflix original played by Alison Brie who has something in common with a Marvel Comics heroine. In the psychological thriller Horse Girl, a film Brie also co-wrote with director Jeff Baena, she plays Sarah: a schizophrenic struggling to decipher reality from her surreal hallucinations, which is also something Jeanne-Marie Beaubier has to deal with, on top of a frequent responsibility to save the world and a dissociative identity disorder diagnosis. Otherwise known as Aurora, Beaubier's wide variety of mutant abilities, including expansion of her many split personalities at will, earned her a spot as an interim X-Men member.
Rogue
Speaking of X-Men members, one character who has been particularly long overdue for a cinematic revamp onscreen is Rogue: an extremely powerful mutant known best for her ability to absorb others' energies, memories, personalities, and even their own powers. She is also well-known from her deception in Marvel Comics as (despite her dark past) having a spunky, take-no-crap-from-anyone sort of disposition as toted through a charming Southern drawl, which, with all due respect to Academy Award winner Anna Paquin, we did not see as much of from her portrayal in the X-Men films of the early 2000s.
I believe that an actress like Alison Brie can pull off that character trait beautifully for a reimagining in the Marvel Cinematic Universe, if her defining role as the spunky, take-no-crap-from-anyone student with a dark past Annie Edison on Community is sufficient proof.
Invisible Woman
Another role whom I believe Alison Brie's performance on Community could be a worthy pre-cursor to is Susan Richards (née Storm), who is another character in dire need of a big screen reboot, and even more so than Rogue.
Better known as the Invisible Woman for her ability to go transparent (in addition to force field projection), she is one of the most essential superheroes in Marvel's repertoire, especially as the glue that holds the predominantly male members of the Fantastic Four together. While I would not argue against anyone who says that Donald Glover's exit from Community sealed its eventual decline, you could also consider Annie Edison a very unifying presence on the beloved NBC sitcom, I would love to see Brie transfer to Marvel's first family when they make their official transfer into the MCU.
Agent Stephanie Briggs
On the other hand, one part of Annie Edison's arc on Community that I kind of wish we could have seen more of is her internship with the FBI which we can easily assume, considering her top-notch detective work and skills with a paintball gun at Greendale, turned into a successful career. One way that we could, technically, see this story play out (if the Community spin-off movie never gets green-lit) is to cast Alison Brie as Stephanie Briggs, an FBI agent and lesser-known Marvel character with a particularly short stint in the mid-1990s run of Web of Scarlet Spider, which is a story that Tom Holland has been interested in bringing to the big screen. Perhaps that means there is a chance to see Brie as Briggs in a more pivotal role in the MCU… or, even in a Sony movie.
Spider-Woman
Speaking of Sony, talk of the studio bringing Spider-Woman to the big screen for the first time finally took a webswing toward reality with recent news of an upcoming film that will likely serve as Olivia Wilde's follow-up her to directorial debut Booksmart. Now, it is not confirmed which of the vigilante's many iterations the movie will focus on, but fans hope it is Jessica Drew: a government agent given arachnid-like abilities (gliding, venom blasts, pheromonal fear manipulation, etc.) by her scientist father as a child. Not only is Alison Brie almost the spitting image of Drew, but playing a fan-favorite Marvel heroine such as she would be a great trade-off from not getting the lead in She-Hulk.
What do you think? Does Alison Brie have a chance of becoming the next "Brie" to join the MCU with any of the Marvelous ladies above (minus Spider-Woman, of course), or do you still feel she was robbed from what would have been a pitch-perfect casting as Jennifer Walters on She-Hulk? Let us know in the comments and be sure to check back for additional information and updates on the lovely film and TV star, as well as even more hypothetical comic book movie casting sessions, here on CinemaBlend.
Your Daily Blend of Entertainment News
Jason has been writing since he was able to pick up a washable marker, with which he wrote his debut illustrated children's story, later transitioning to a short-lived comic book series and (very) amateur filmmaking before finally settling on pursuing a career in writing about movies in lieu of making them. Look for his name in just about any article related to Batman.
Your Daily Blend of Entertainment News
Thank you for signing up to CinemaBlend. You will receive a verification email shortly.
There was a problem. Please refresh the page and try again.