Excellent Lord Of The Rings Gift Ideas For Any Middle Earth Fan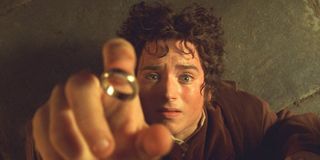 CinemaBlend participates in affiliate programs with various companies. We may earn a commission when you click on or make purchases via links.
We get it… finding the perfect Lord of the Rings gifts for that certain family member or friend can be no easy task. With a wide range of items associated with J.R.R. Tolkien's timeless trilogy and Peter Jackson's groundbreaking film adaptations (not to mention prices), finding that perfect gift for the Middle Earth fan in your life can sometimes seem as daunting as destroying the One Ring (which you can totally purchase, by the way).
Fear not, as we have put together this handy holiday gift guide with a number of different items that should please that special someone more than second breakfast pleases a hobbit. Let's started on this totally not unexpected journey…
The One Ring Necklace For The Lord Of The Rings Fan Who Has Everything
There's a good chance the Middle Earth fan in your life already has some version of The One Ring from The Hobbit and Lord of the Rings, but few come with the level of detail (and incredible price) as this version produced by Badali Jewelry. Inspired by the novels of J.R.R. Tolkien, this officially licensed bronze ring that has been plated with 24k gold comes with a 24-inch gold plated chain and a satin jewelry pouch for safe keeping. It also includes a card of authenticity proving it is the One Ring of Power, proving it is in fact the one ring to rule them all. Just make sure it's safe and out of the reach of any Gollums hanging around the house.
Buy It On Amazon Here (opens in new tab).
A Lord Of The Rings Tapestry Featuring A Map Of Middle Earth
There are maps from The Lord of the Rings and then there is this massive Middle Earth tapestry from Semtomn. Coming in at a whopping 60 inches by 80 inches, this polyester tapestry is big and bold enough to serve as the center-piece of a wall in any number of rooms in your house. And due to its durability, it is also perfect for outdoor display or use as a massive beach towel or throw for a picnic if the weather is nice. So, whether you want to have another meal on the Shire or point out to all your friends the best way to reach Mordor, this large map tapestry will do the trick and then some.
Buy It On Amazon Here (opens in new tab).
This Copy Of Recipes From The World Of Tolkien For The Foodie Middle Earth Fan
There has been more than one occasion where I've sat down to watch The Lord of the Rings only to find myself famished before Sam even breaks out his bundle of food. So hungry, in fact, that the creation of the orcs made me hungry for some reason. If you want to help the Middle Earth fan in your life (or yourself, perhaps) avoid a similar fate in the future, pick up a copy of Recipes from the World of Tolkien: Inspired by the Legends, a 176-page cookbook that is loaded with delicious meals and treats split up by time of day. Whether it's breakfast, second breakfast, elevenses, luncheon, afternoon tea, dinner, or supper, this book should have you more than covered. Just don't forget the potatoes…
Buy It On Amazon Here (opens in new tab).
This LEGO Lord Of The Rings Battle At The Black Gate Set
The Battle of the Black Gate is, without a doubt, one of the most epic moments in the entire Lord of the Rings trilogy, and few movies have been able to capture the feeling of the key conflict in 2003's The Return of the King. Well, now, thanks to LEGO, you can recreate the iconic battle between the forces of good and evil with a 656-piece set that includes the legendary gate, the accompanying tower, and all the methods of fortification a Lord of the Rings fan could ever desire. And for good measure, the set also comes with five mini-figures, including Gandalf and the Great Eagle so you can take on Mouth of Sauron once and for all.
Buy It On Amazon Here (opens in new tab).
This Lord Of The Rings Funko Pop Figurine Featuring Gandalf
At this point, there are thousands of different Funko Pop! vinyl figurines, which means that this amazing and cute reproduction of Gandalf the Grey from The Lord of the Rings: The Fellowship of the Ring. Included with Gandalf you will find his signature staff and sword, the very same weapons in his hands while shouting "You shall not pass" at Durin's Bane in Moria. The iconic scene can now be played out on the shelf in the home office or bedroom of that big Lord of the Rings fan in your life, or you could just take it for yourself. Either way, you can buy it right now and add to (or start) your Middle Earth-based Funko Pop! collection.
Buy It On Amazon Here (opens in new tab).
This Lord Of The Rings Music Box For Fans Of The Epic Score
Tiny, mechanized music boxes used to be all the rage, but who's to say they can no longer take up real estate on a shelf or dresser the same way our memories of them take up space deep in our hearts. If you know someone who loves this type of music box (with all those moving parts and no need for batteries) who also loves The Lord of the Rings, then this is the perfect gift. Lightweight and small enough to rest in the palm of the hand, this wooden music box will bring joy and a small selection from the score from The Lord of the Rings this holiday season. Each crank of the handle on the side of the box produces about 15 seconds of music.
Buy It On Amazon Here (opens in new tab).
A Shire Curtain To Bring Some Life To Every Room In Your Hobbit House
Shower curtains are typically the last thing we think about whenever we're planning out home decor, but that doesn't mean we have to settle for something bland or basic to keep our bathrooms dry. That's where this Hobbit shower curtain comes into the picture. Featuring a Hobbit house from the Shire, this versatile curtain can be used in the shower or anywhere else in your house or the home of your favorite Lord of the Rings fan. And since so many of us are working from home these days, this Shire curtain could also be used to add a little life to your video meetings as a picturesque backdrop.
Buy It On Amazon Here (opens in new tab).
A Copy Of Tolkien: Maker Of Middle Earth For The Book Collection
Chances are the Lord of the Rings fan in your family or social circle has read The Hobbit, The Lord of the Rings, and every other novel, short story, or encyclopedia written by J.R.R. Tolkien, but there are other books about the man behind the stories that can be enjoyed. Take into consideration Tolkien: Maker of Middle Earth, a 2018 collection of illustrations and essays from the visionary fantasy writer that fill more than 400 pages of information and intrigue. The book was built by diving into Tolkien's archives at the Bodleian Libraries in Oxford, England, several universities in the United States, and private collections, resulting in one of the largest collections of material published to the public.
Buy It On Amazon Here (opens in new tab).
The City Of Prague Philharmonic Orchestra: The Hobbit And The Lord Of The Rings: Film Music Collection
Academy Award-winning composer Howard Shore's score took The Lord of the Rings to the next level (and once again for The Hobbit trilogy a decade-plus later) which makes this double LP version of The City of Prague Philharmonic Orchestra's collection a perfect gift for fans of Middle Earth or music in general. This collection of timeless arrangements from some of the most imaginative and iconic journeys in cinematic history will pop over the speakers of your home stereo set up and leave everyone wondering where you grabbed it. This release is limited edition, so run, don't walk or it might be too late.
Buy It At Tower Records Here.
This Lord Of The Rings Trilogy 1,000-Piece Jigsaw Puzzle
If you are going to be spending time with your family (or a Lord of the Rings fan) this holiday season, you might as well pick up this detailed 1,000-piece jigsaw puzzle featuring artwork representing each of the three films in the trilogy. Sure, some sections look difficult, but that should be par for the course for anyone who loves reading or watching Frodo Baggins make the long journey into the depths of Mordor to complete his quest and bring peace to Middle Earth. Just think about Frodo and Sam when you feel like you can't take it anymore.
Buy It On Amazon Here (opens in new tab).
This Tree Of Gondor Wooden Mug For An Assortment Of Different Beverages
Everyone needs a proper mug to enjoy their favorite tea, coffee, miruvor, or a nice beer, and do we have ourselves a proper mug. This Tree of Gondor mug has a wood exterior with a stainless steel insert and holds up to 22 ounces of your beverage of choice and features a cooper label displaying the timeless symbol associated the land ruled by Aragorn following the events of The Lord of the Rings: The Return of the King.
Buy It On Amazon Here (opens in new tab).
This is just a small sampling of all the great Lord of the Rings gifts that are available for the Middle Earth fan in your life. There's also this "Mordor Fun Run (opens in new tab)" shirt poking fun at one of the trilogy's most quotable and parodied lines. And last, but certainly not least, there is the Gandalf greeting card that comes with a wizard's way of getting out of trouble (opens in new tab) when you forget to send someone a gift on time.
Your Daily Blend of Entertainment News
Philip grew up in Louisiana (not New Orleans) before moving to St. Louis after graduating from Louisiana State University-Shreveport. When he's not writing about movies or television, Philip can be found being chased by his three kids, telling his dogs to stop yelling at the mailman, or yelling about professional wrestling to his wife. If the stars properly align, he will talk about For Love Of The Game being the best baseball movie of all time.
Your Daily Blend of Entertainment News
Thank you for signing up to CinemaBlend. You will receive a verification email shortly.
There was a problem. Please refresh the page and try again.