How Megan Fox And Brian Austin Green's Divorce Is Going Amidst New Relationship With Machine Gun Kelly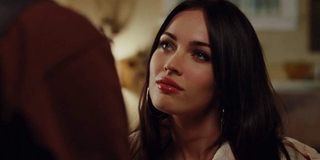 Living out private moments in a public forum can't be easy. As Brian Austin Green and Megan Fox go through their divorce proceedings, their relationship is still a point of interest for many. The fact that Megan Fox is now in a relationship with musician and actor Machine Gun Kelly may have drawn more attention to the divorce -- and complicated the situation on a personal level.
Brian Austin Green and Megan Fox's relationship has been through a lot of ups and downs. The pair married in 2010 but, this past May, they announced they had separated. It wasn't the first time the pair had split -- Megan Fox filed for divorce in 2016, though the pair ultimately reconciled.
In November 2020, Megan Fox again filed for divorce from Brian Austin Green. Now, according to People, Brian Austin Green has filed his own motion, seeking joint custody of their three children. The divorce filing may not come as a huge shock to fans. We learned over the summer that Megan Fox had begun dating Machine Gun Kelly, whom she met while filming Midnight in the Switchgrass.
Since they met, Megan Fox appeared in one of Machine Gun Kelly's music videos, lending credence to growing rumors about their relationship. The pair appeared together on the red carpet for this year's American Music Awards, shortly before she filed for divorce. Machine Gun Kelly has also opened up about how Megan Fox has been by his side as he struggles with drug abuse.
Though it sounds like things are going well between the new couple, People reports that Megan Fox's new romance has put a strain on the end of her relationship with Brian Austin Green. According to the magazine, he feels some resentment that she moved on so quickly from their marriage.
There have been hints at this tension, recently. In August, she uploaded a photo of herself and Machine Gun Kelly with a caption that said "Achingly Beautiful Boy… my heart is yours." Brian Austin Green then seemingly responded with his own post -- a slideshow of photos of their sons, with a pointedly similar caption.
It remains to be seen whether any bitterness between the two actors will impact their divorce proceedings, especially where their custody arrangement is concerned. After their split, he confessed that he hopes neither of them will try to play victim or vilify the other. He's also said that they're learning as they go when it comes to co-parenting their sons.
The pair has a lot of history together, which will likely come into play in the coming months. Megan Fox went on the record nearly a decade ago, saying she always wanted kids with her now-estranged husband. Brian Austin Green, for his part, has commended Megan Fox for being the mother of his children.
Keep it here at CinemBlend for more updates on Megan Fox and Brian Austin Green's divorce proceedings and for more news from the world of movies and TV.
Your Daily Blend of Entertainment News
Thank you for signing up to CinemaBlend. You will receive a verification email shortly.
There was a problem. Please refresh the page and try again.