Brian Austin Green Shares Proof That Megan Fox Makes Beautiful Babies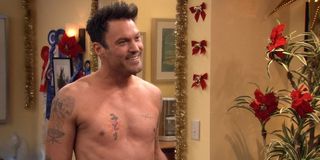 Brian Austin Green just couldn't contain his love for his children earlier this week, and flooded his usually relatively inactive Instagram account with adorable photos of his and Megan Fox's three sons. We get it, you guys make the cutest kids ever!
On Wednesday, Brian Austin Green made his return to Instagram after seven months of silence with a flurry of cuteness by sharing some precious pics of his kids with wife Megan Fox, including their newborn son Journey River Green. In the captions, proud papa Green fawned over how handsome his young sons are. This is the first time that Green has shared a photo of Journey since he was born in early August of this year. Accompanying the photo of the newest member of their family, Green commending his wife on making such beautiful babies.
The doting dad also shared some snapshots of his two older sons: 4-year-old Noah and 2-year-old Bodhi. He posted a photo of the two boys beaming in the sunlight on a bench, and wrote about how he misses being young.
Brian Austin Green also shared a cute picture of Bodhi trying on a long red wig. Progressive parents have praised Megan Fox for allowing her children to explore gender without restrictions. Fox told Jimmy Kimmel earlier this year that Noah will sometimes wear dresses, saying that her boys can be whatever they want to be in her house. For little Bodhi, that includes becoming a redhead!
Brian Austin Green finished the lovefest off with a pensive photo of Noah, admiring how "crazy good looking" his son has gotten.
There's no doubt that Brian Austin Green has a crazy amount of love for his sons and wife, but there was a bit of a rough patch in recent years where things didn't look so great for him and Megan Fox. Last year, Fox announced that she was filing for divorce from her husband of five years, but thankfully they were able to work through their separation and were back together by the start of 2016 and announced Fox's pregnancy with Journey a few months later.
These photos just serve as more proof that Brian Austin Green and Megan Fox aren't just one of the hottest couple in Hollywood; they're also the parents to the most adorable kids ever.
Your Daily Blend of Entertainment News