How To Watch News Of The World Streaming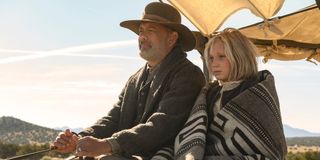 CinemaBlend participates in affiliate programs with various companies. We may earn a commission when you click on or make purchases via links.
Released over the 2020 holiday season, News of the World, the new Tom Hanks western directed by Paul Greengrass, dazzled critics and audiences (at least those who could get to theaters) alike, but many of those who wanted to see the epic were left out in the cold without a way to see the actor and director team up for the first time since 2013's Captain Phillips. But there is some good news, however, as you can now watch News of the World streaming from the comfort of your own homel.
Where Is News Of The World Streaming
Starting Friday, January 15, 2021, you will be able to watch News of the World on a number of streaming services without having to drive hours to find a theater that is currently showing movies. In order to watch Tom Hanks and Helena Zengel traverse a rather dangerous landscape, all you have to do is go to services like Amazon, Vudu, Apple TV, Google Play, and Fandango Now, pay the premium video on demand fee, and you'll be up and running in no time at all.
Rent News of The World on VOD on Amazon here.
News of the World will be available to purchase on digital on March 9, 2021. The Blu-ray will be available to purchase on March 23. Amazon will allow you to pre-order it here.
Will News Of The World Be On Netflix?
Well, technically, News of the World will be available on Netflix in international territories at some point, presumably in 2021. According to a Variety report from November 2020, Universal and Netflix haven't said exactly when the movie will be available in those markets outside of the United States. It remains even more unclear if News of the World will end up on Netflix here in the United States, but make sure to check back for updates on this in the future.
Here Is What CinemaBlend Had To Say About News Of The World
If you are trying to decide on whether or not to watch News of the World in theaters or on video-on-demand or if you have already watched the movie and want to see what CinemaBlend had to say about the movie, here is our review on the Paul Greengrass-directed western. In his review Eric Eisenberg said it was the best effort from Greengrass since 2007's The Bourne Ultimatum and that Tom Hanks reminds the audience why he is one of the best in the business with his portrayal of Captain Jefferson Kyle Kidd.
Hopefully, this helps clear things up about the release of News of the World. If you want to know what other movies are coming out in the final weeks of 2020, check out CinemaBlend's movie release guide.
Have you considered using a VPN? You may already use one as a way to keep your internet access secure when using public wi-fi, but did you know you can use a VPN to watch your favorite streaming content when you're traveling out of region? If you're traveling out of area and want to access the Netflix content for your home region, consider using a VPN.
Philip grew up in Louisiana (not New Orleans) before moving to St. Louis after graduating from Louisiana State University-Shreveport. When he's not writing about movies or television, Philip can be found being chased by his three kids, telling his dogs to stop yelling at the mailman, or yelling about professional wrestling to his wife. If the stars properly align, he will talk about For Love Of The Game being the best baseball movie of all time.
Your Daily Blend of Entertainment News
Thank you for signing up to CinemaBlend. You will receive a verification email shortly.
There was a problem. Please refresh the page and try again.