Old School Cast: What The Comedy Actors Are Doing Now, Including Will Ferrell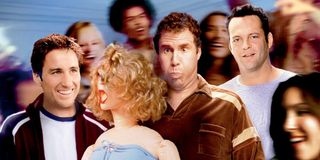 CinemaBlend participates in affiliate programs with various companies. We may earn a commission when you click on or make purchases via links.
This February marked the 18th anniversary of Old School, Todd Phillips' back-to-school sophomoric comedy that propelled the film careers of its three lead stars, Luke Wilson, Vince Vaughn, and Will Ferrell. Co-starring a variety of future celebrities, including Jeremy Piven, Ellen Pompeo, and Simon Helberg, this raunchy romp was met with mixed reviews and a modest box office intake, but it found a loving audience, becoming one of the most quoted movies of the early '00s. Now that nearly two decades have passed since its theatrical rollout, what's the Old School cast doing now? Let's find out!
Luke Wilson (Mitch "The Godfather" Martin)
As Mitch Martin, i.e. "The Godfather," a lovelorn 30-something who moves into Beanie's frat house after his girlfriend cheats on him, Luke Wilson plays our hapless lead character in Old School. Most notably, Wilson played Anthony Adams in Bottle Rocket, Richie Tenenbaum in The Royal Tenenbaums, and Emmett Richmond in the Legally Blonde movies. Additionally, he starred in Home Fries, The Family Stone, My Super Ex-Girlfriend, and Idiocracy. His other notable film credits include My Dog Skip, Charlie's Angels (2000), Blades of Glory, 3:10 to Yuma, and Death at a Funeral (2010). Also, he appeared in Anchorman, Brad's Status, and Zombieland: Double Tap. Most recently, the actor was seen in Netflix's All the Bright Places and heard in Bobbleheads: The Movie.
Additionally, on television, Luke Wilson starred in short-lived shows like Roadies and Enlightened. Currently, he plays Pat Dugan, i.e. S.T.R.I.P.E., in The CW's Stargirl. Next, Wilson will be seen in 12 Mighty Orphans and The Cleaner. Right now, the actor is filming a role in Gasoline Alley. Also, Wilson will be heard in the animated series, New-Gen. Outside of acting, he was the host of ABC's 2020 docuseries, Emergency Call.
Will Ferrell (Frank "The Tank" Ricard)
In the role of Frank "The Tank" Ricard, a domesticated man who puts a strain on his recent marriage when he returns to his hard-partying ways, Will Ferrell played a memorable character in 2003's Old School. Making a name for himself as a standout performer on Saturday Night Live, Ferrell became a movie star through his lead performances in Anchorman 1 & 2, Elf, Talledega Nights, Blades of Glory, Step Brothers, The Other Guys, Daddy's Home 1 & 2, and Stranger Than Fiction, to name only a few.
Most recently, Will Ferrell starred in Downhill and Eurovision Song Contest: The Story of Fire Saga, which he co-wrote and produced. Also, the A-list comedian appeared in Impractical Jokers: The Movie and the short film, David. Next, he'll star in Apple TV+'s The Shrink Next Door. Additionally, Ferrell is expected to star in The Prince of Fashion, Fruitcake, Christmas Carol, and an untitled eSports comedy. Meanwhile, as a producer, Ferrell is attached to several projects, including Tig Notaro's directorial debut, Am I Ok?
Vince Vaughn (Bernard "Beanie" Campbell)
Playing the part of Bernard "Beanie" Campbell, who turns his house into a fraternity to stay compliant with the university rules, Vince Vaughn starred in Old School. Following his breakout performance as Trent Walker in Swingers, Vaughn found fame with his lead performances in Wedding Crashers, Dodgeball: A True Underdog Story, and The Break-Up. Additionally, Vaughn was well-liked for his supporting turns in Anchorman, Mr. & Mrs. Smith, and The Lost World: Jurassic Park. His other notable post-Old School film credits include Hacksaw Ridge, Into the Wild, and Todd Phillips' Starsky & Hutch.
More recently, Vince Vaughn starred in genre films like Brawl in Cell Block 99, Dragged Across Concrete, and last year's Freaky. His other recent film credits include Arkansas and Hulu's The Binge. Outside of film, Vaughn was seen in True Detective Season 2 and heard in F is for Family. Coming up next, the actor will appear in North Hollywood and Queenpins. Additionally, Vaughn is expected to star in The Last Drop and an untitled Netflix action-adventure movie. Also, the actor is attached to the Amazon animated series, Oaklandia. Furthermore, he's rumored to reprise his role in Wedding Crashers 2.
Jeremy Piven (Dean Gordon "Cheese" Pritchard)
As Dean Gordon Pritchard, i.e. "Cheese," an old classmate who's out for revenge, Jeremy Piven plays the primary antagonist in Old School. Most notably, Piven is known for his three-time Emmy-winning performance as Ari Gold in HBO's Entourage. Later, the actor reprised this role in the 2015 big screen continuation. His other notable television roles include Mr. Selfridge, Ellen, The Larry Sanders Show, and Seinfeld.
Additionally, on the big screen, Jeremy Piven played the lead role of Don Ready in The Goods: Live Hard, Sell Hard. He also starred in Keeping Up with the Steins, PCU, and I Melt With You. His other notable film credits include supporting turns in Scary Movie 3, RocknRolla, The Grifters, Say Anything, Black Hawk Down, and Grosse Point Blank. Additionally, Piven played standout characters like Damon Schmidt in The Kingdom and Michael Berkow in Very Bad Things. Most recently, Piven starred in Last Call. Next, the actor will appear in American Night, Ghost Killers, and Jamie Foxx's All-Star Weekend.
Ellen Pompeo (Nicole)
In the role of Nicole, Mitch's high school crush who reconnects with our lead character, Ellen Pompeo plays a romantic character in Todd Phillips' Old School. Most notably, Pompeo is known for her long-standing title role as Dr. Meredith Grey in ABC's Grey's Anatomy. She also played this part in Station 19. Additionally, she's seen in Friends, Law & Order, and Strangers with Candy. Outside of television, Pompeo appears in Catch Me If You Can, Daredevil, and Moonlight Mile. She also starred in Art Heist and Life of the Party (2005). Currently, Pompeo can be seen in the latest season of Grey's Anatomy.
Perrey Reeves (Marissa Jones)
Playing the part of Marissa Jones, Frank's concerned wife, Perrey Reeves plays a stern supporting character in 2003's Old School. Most notably, Reeves reunited with Old School co-star Jeremy Piven to play Melissa Gold in Entourage. She reprised this role in the movie continuation. Her other TV credits include Covert Affairs, Famous in Love, Private Practice, and Grey's Anatomy. Additionally, on the big screen, Reeves appears in Mr. & Mrs. Smith, Child's Play 3, Kicking & Screaming (1995), Plus One, and Smoke Signals. Most recently, she was seen in Cosmic Sin and Amazon Prime's Paradise City.
Juliette Lewis (Heidi)
As Heidi, Mitch's girlfriend, Juliette Lewis plays a randy supporting character in Old School. Previously, Lewis scored an Oscar nomination for her supporting turn in Cape Fear. She also received an Emmy nomination for My Lousiana Sky. Most notably, Lewis is known for National Lampoon's Christmas Vacation and Natural Born Killers. Her other film credits include Kalifornia, What's Eating Gilbert Grape, From Dusk Till Dawn, Whip It, August: Osage County, Conviction, Strange Days, and Husbands and Wives.
Additionally, Juliette Lewis starred in The Other Sister and appeared in Starsky & Hutch, Mixed Nuts, Cold Creek Manor, Nerve, Due Date, Ma, and Jem and the Holograms. Earlier this year, Lewis was seen in Music, Breaking News in Yuba County, and Mayday, which premiered at the Sundance Film Festival. On TV, the actress is seen in Secrets & Lies, Camping, and Wayward Pines. Next, Lewis will star in Showtime's Yellowjackets.
Leah Remini (Lara Campbell)
In the role of Lara Campbell, one of Marissa's friends, Leah Remini plays a sarcastic supporting character in 2003's Old School. Most notably, Remini is known for playing Carrie Heffernan in CBS's The King of Queens. She reunited with Kevin James for CBS's Kevin Can Wait. She can also be seen in Saved by the Bell, Cheers, and The Talk, where she co-hosted. Additionally, Remini hosted the documentary series, Leah Remini: Scientology and the Aftermath, which resulted in two Emmy wins. Also, the actress frontlined the reality TV series, Leah Remini: It's All Relative. Furthermore, outside of television, Remini appears in Mad Families, The Clapper, Handsome, and Second Act.
Currently, Leah Remini is the host of the podcast, Scientology: Fair Game, which she started in July 2020. Also, the actress hosts Game Show Network's People Puzzler.
Elisha Cuthbert (Darcie Goldberg)
Playing the part of Darcie Goldberg, Mitch's no-nonsense one-night-stand, Elisha Cuthbert has a prominent role in Old School. Most notably, Cuthbert starred in The Girl Next Door. She's also known for her performances in House of Wax (2005), Love Actually, Captivity, The Quiet, and He Was a Quiet Man. Additionally, Cuthbert's recent film credits include Goon: Last of the Enforcers, Just Before I Go, and My Sassy Girl.
Outside of film, Elisha Cuthbert played main roles in Nickelodeon's Are You Afraid of the Dark?, Fox's 24, and ABC's Happy Endings. Additionally, she played a lead part in NBC's short-lived sitcom, One Big Happy. More recently, Cuthbert was in the main cast of Netflix's The Ranch. Furthermore, she had a recurring role in ABC's The Forgotten and she was a host on Global TV's Popular Mechanics for Kids. Next, Cuthbert appears in Eat Wheaties! The actress will also star in the Ireland-based horror movie, The Cellar.
Simon Helberg (Jerry)
As Jerry, Simon Helberg received one of his first high-profile roles in Old School. Most notably, the actor played Howard Wolowitz in CBS's long-running sitcom, The Big Bang Theory. His other notable TV credits include MADtv, Dr. Horrible's Sing-Along Blog, Studio 60 on the Sunset Strip, and Derek and Simon, which he co-created and produced. Furthermore, as a voice actor, Helberg can be heard in Kung Fu Panda: Legends of Awesomeness, Kick Buttowski: Suburban Daredevil, and The Tom and Jerry Show.
Outside of TV, Simon Helberg is best known for his supporting performances in Florence Foster Jenkins and A Serious Man. He also appeared in Walk Hard: The Dewey Cox Story, Good Night and Good Luck, A Cinderella Story, and Van Wilder. Additionally, Helberg starred in, wrote, and co-directed We'll Never Have Paris. Next, the actor appears in Leos Carax's Annette, which will premiere at the Cannes Film Festival. He'll also be seen in Mayim Bialik's feature directorial debut, As Sick As They Made Us.
Seann William Scott (Peppers)
In the role of Peppers, Seann William Scott had a standout cameo in Old School. Previously, Scott appeared in Todd Phillips' Road Trip. Most notably, the actor played Steve Stifler in the American Pie franchise. Seann William Scott also stars in the Goon movies. Elsewhere, he's recognized for his lead performances in Dude, Where's My Car?, Mr. Woodcock, Evolution, and Bulletproof Monk. Furthermore, the comedic actor played Travis Walker in The Rundown, Bo Duke in The Dukes of Hazzard, and Wheeler in Role Models. His other film credits include Final Destination, Cop Out, and Southland Tales.
Outside of these film titles, Sean William Scott can be seen in Bloodline, Balls Out: Gary the Tennis Coach (which he produced), The Promotion, and Jay and Silent Bob Strike Back. On television, the actor starred in the third season of Fox's Lethal Weapon in the role of Wesley Cole. Next, Scott is expected to star in Fox's new reboot, This Country.
Craig Kilborn (Mark)
Playing the part of Mark, Nicole's boyfriend, Craig Kilborn plays a combative character in Old School. Most notably, Kilborn hosted The Daily Show and The Late Late Show. He also appeared on SportsCenter and hosted The Kilborn File. Additionally, in film, Kilborn can be seen in The Benchwarmers, The Shaggy Dog (2006), Full of It, and The Bronze. Most recently, Kilborn guest-starred in an episode of ABC's short-lived United We Fall.
Patrick J. Adams (Patch)
Taking on the role of Patch, Patrick J. Adams made his film debut in 2003's Old School. Most notably, Adams is known for his leading role as Mike Ross in the first seven seasons of USA Network's Suits. His other television credits include Orphan Black, Pillow Talk, Sneaky Pete, Rosemary's Baby, and Friday Night Lights. Additionally, in film, Adams appeared in Walk Hard: The Dewey Cox Story, Christmas in Boston, Rage, Weather Girl, Clara, and Room for Rent. Most recently, the actor starred in Disney+'s The Right Stuff. Furthermore, Adams can be heard in the animated series, Pandemica.
You can rent Old School on Amazon Prime here.
Your Daily Blend of Entertainment News
Will is an entertainment writer based in Pittsburgh, PA. His writing can also be found in The Playlist, Cut Print Film, We Got This Covered, The Young Folks, Slate and other outlets. He also co-hosts the weekly film/TV podcast Cinemaholics with Jon Negroni and he likes to think he's a professional Garfield enthusiast.