6 Random And Amazing Star Wars Products Available On eBay Right Now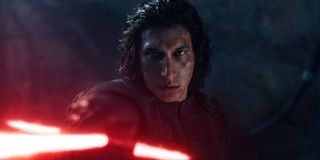 Whether you are looking for new, retro, or rare Star Wars toys, props, or other collectibles this May the 4th, eBay is without a doubt the place you want to go. With a robust inventory of officially licensed products, one-of-a-kind finds, and something for Star Wars fans of all ages, the online retailer is your go-to source when you're looking to fill empty space in your collection with products like your very own Galaxy's Edge lightsaber, a Star Wars Funko Pop, or even the incredibly detailed Kotobukiya (opens in new tab) figures.
With literally thousands upon thousands of options ranging from homemade gifts to those highly sought after Kenner toys from back in the day, finding the right item can take a lot of work and sometimes even more money. To save you some time (and hopefully some of your hard-earned cash), we've put together a quick list of six random and amazing Star Wars products available on eBay right now. It should be noted that these items are available through the "Buy It Now" option on the online retailer, but don't be discouraged from entering an intergalactic bidding war, and may the Force be with you.
Luke Skywalker Yavin Ceremony Figure
Tracking down one of the original Kenner Star Wars figures from the late 1970s and early 1980s is no easy task, and even then you're looking at spending hundreds of dollars, if not more. If you like the look of that line of toys, and you want something similar this May the 4th, then this Star Wars Vintage Collection version of Luke Skywalker as seen in the Yavin ceremony at the end of Star Wars: A New Hope is perfect for you.
Part of the line of action figures first introduced by Hasbro in 2010, the Vintage Collection version of Luke Skywalker includes not only the future Jedi in his amazing yellow bomber jacket but also his Medal of Bravery, blaster, and lightsaber. This figure would look good high up on a shelf or mixed in with other Star Wars characters in an epic display.
Buy the Luke Skywalker Yavin Ceremony figure on eBay.
LEGO Millennium Falcon With Minifigs
There are few Star Wars ships that garner a response from audiences quite like the Millennium Falcon. Featured in the vast majority of the movies in the franchise, the iconic ship piloted by everyone from Han Solo to Rey is often one of the first images to come to mind when thinking about Star Wars. And over the years, the Millennium Falcon has been recreated time and time again in the form of large, detailed toys, smaller replicas, and dozens of LEGO kits. Speaking of which…
This 1,351-piece LEGO Millennium Falcon was released alongside the Star Wars Sequel Trilogy, specifically 2019's The Rise of Skywalker, and is officially licensed through Disney. In addition to the detailed ship that includes both interior and exterior functionality (hello, blasters!), the set also includes a total of seven minifigs including Lando Calrissian, Chewbacca, Finn, and other characters featured in the final installment in the Skywalker Saga.
Buy the LEGO Millennium Falcon with Minifigs on eBay.
Kotobukiya Qui-Gon Jinn Figure
The Star Wars Prequel Trilogy isn't always on the receiving end of love and praise, especially Star Wars: Episode I: The Phantom Menace, but there are certain aspects of the 1999 pop culture phenomenon that are more than deserving of adulation. At the top of that list is Qui-Gon Jinn (Liam Neeson), the Jedi Master who took Anakin Skywalker under his wing and began his journey to becoming a Jedi Knight.
There have been countless toy versions of Qui-Gon Jinn over the years, but the character's recreation from Kotobukiya is, without a doubt, one of the most faithful and beautifully crafted options out there. Now, this figure does have a higher price than your average toy, but with that comes an unmatched attention to detail, multiple poses (holding his lightsaber or hands in robe), and the satisfaction of knowing you have an impressive addition to your collection.
Buy this Kotobukiya Qui-Gon Jinn Figure on eBay.
Ben Solo With Blue Lightsaber Funko Pop Figure
There are literally hundreds of Star Wars Funko Pop figures that have been released over the years, and while we are still waiting on a few iconic characters and moments to get the Funko treatment, there are a ton of great options for fans of all ages. One of the more recent additions to the growing collection is the Funko Pop figure of Ben Solo with his blue lightsaber from Star Wars: The Rise of Skywalker. Appearing just as Adam Driver did at the completion of Rylo Ken's redemption story, this Funko Pop is absolutely perfect in every way.
Some have derided The Rise of Skywalker as a whole and don't care much for Ben Solo's redemption, but for those who jumped out of their seats when Ben picked up the lightsaber, there are few Funko Pop figures that compare to this one.
Buy the Ben Solo with Blue Lightsaber Funko Pop Figure on eBay.
Pedro Pascal Signed Mandalorian And Baby Yoda Funko Pop Figure
Who would have thought a Disney+ original series would be considered to be one of the best entries in the Star Wars franchise, but that's exactly what happened with the release of The Mandalorian in November 2019. With the show's success came a seemingly endless line of toys, collectibles, and other pieces of merchandise tied to the adventures of Mando and Baby Yoda. And while there are a ton of great options out there, this Funko Pop figure displaying the show's main attractions is about as good as it gets. And best of all, it's signed by The Mandalorian's own Pedro Pascal.
This Funko Pop is going to hit your pocketbook a lot harder than the standard figures in the collection, but this is one of the few figurines featuring the autograph of The Mandalorian's premier bounty hunter. Also included with this signed Funko Pop figure is a certificate of authenticity from Hollywood Memorabilia.
Buy the Pedro Pascal signed Mandalorian and Baby Yoda Funko Pop figure on eBay.
Rey's Galaxy's Edge Lightsaber
First announced in 2015, the Star Wars: Galaxy's Edge themed areas in Disneyland and Walt Disney World have become popular destinations for those visiting the parks in California and Florida, respectively. And when people visit either of the Galaxy's Edge locations, one piece of merchandise they often pick up is their very own lightsaber. But what if you haven't been able to visit any of the Disney parks or spent all your money on the wild array of food and beverage options during your adventures? Well, fear not as you can pick up a Galaxy's Edge lightsaber on eBay.
There are countless options when it comes to purchasing a lightsaber on eBay, but one of the best Galaxy's Edge versions of the Jedi's signature weapon is Rey's (which is also Anakin Skywalker's) saber from the Star Wars Sequel Trilogy. Included in the package is the hilt as well as the blade that you then put together to see it in all its glory. Now all that is left to do is recreate one of the intense lightsaber duels from the franchise.
Buy Rey's Galaxy's Edge Lightsaber on eBay.
These are just a handful of the great and unique Star Wars products available on eBay right now. With May the 4th right around the corner, you will want to act quick so these items don't end up in a galaxy far, far away…
The above article was produced in partnership with eBay. Please consider supporting eBay by checking out these great products.
Your Daily Blend of Entertainment News
Your Daily Blend of Entertainment News
Thank you for signing up to CinemaBlend. You will receive a verification email shortly.
There was a problem. Please refresh the page and try again.