Monster Cast: Where You've Seen The Netflix Movie Stars Before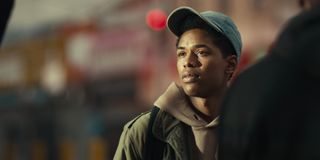 At long last, Anthony Mandler's legal drama Monster is finally here more than three years after it made its world premiere at the 2018 Sundance Film Festival. But now that you can watch the story of a high school honor student falsely accused of murder in a robbery gone wrong on Netflix, you are probably wondering where you've seen the Monster cast before. And while names like Jennifer Hudson, Jeffrey Wright, and John David Washington are easy ones to figure out, some, like the film's star, Kelvin Harrison Jr. might have you stumped.
Below is a quick breakdown of the major players on the Monster cast, who they play, and where you've seen them in the past. With both established and rising stars in the acting world, as well as some of the best hip-hop artists of yesterday and today, taking up residence on the cast, there's a lot to unpack here…
Kelvin Harrison Jr. - Steve Harmon
Kelvin Harrison Jr. portrays Steve Harmon, a 17-year-old honor student at a private New York City high school who dreams of one day becoming a filmmaker, a dream that this is cut short when he goes on trial for a robbery and murder he did not commit. Prior to Monster (which initially premiered in 2018), Harrison appeared in 12 Years a Slave, Ender's Game, and The Birth of a Nation before becoming relatively well known with It Comes at Night. In the past couple of years, Harrison has shown up in Waves, The High Note, and most recently The Trial of the Chicago 7, playing the late Fred Hampton.
Jennifer Hudson - Mrs. Harmon
Taking on the role of the Mrs. Harmon, Steve's successful and devoted mother, is Academy Award, Golden Globe, and two-time Grammy Award winner Jennifer Hudson. The talented singer-turned-actress has appeared in a number of well-regarded movies since making her big screen debut with 2006's Dreamgirls. In the 15 years since her award-winning performance as Effie White, Hudson has gone on to show up in movies like The Secret Life of Bees, Chi-Raq, and Sing, to name just a few. Hudson is also set to portray the late, great Aretha Franklin in the upcoming biopic Respect.
Jeffrey Wright - Mr. Harmon
Portraying the character Mr. Harmon, Steve's supportive father, is Emmy Award winner Jeffrey Wright. One of the most established stars featured in the Monster cast, Wright has appeared in everything from limited series like Angels in America (which netted him the aforementioned Emmy), shows like Westworld, and countless movie titles including Cadillac Records, W., and various James Bond films as Felix Leiter, with another, No Time to Die, on the way. And then there's the whole business of Wright taking on the role of Jim Gordon in The Batman.
John David Washington - Richard 'Bobo' Evans
Taking on the role of Richard "Bobo" Evans, one of the men accused of the robbery and murder who then testifies against Steve Harmon for a lighter sentence, is John David Washington. At the time of Monster's initial premiere, Washington had yet to make a name for himself with memorable performances in BlacKkKlansman, Tenet, and Malcolm and Marie, though the few credits to his name at the time included some heavy-hitters like Monsters and Men, Love Beats Rhymes, and the HBO series Ballers. As a child, the future leading man, had small roles in several films featuring his father, Denzel Washington.
Rakim 'A$AP Rocky' Mayers - William King
Rakim Mayers, aka A$AP Rocky is featured heavily throughout Monster as William King, a fixture of the Harlem streets who is also charged with robbery and murder alongside Steve Harmon. Despite his explosive performance leading you to think otherwise, this is only A$AP Rocky's second acting role in a movie (he previously appeared as himself in a few others), with the other being the 2015 coming-of-age story Dope. The Grammy-nominated rapper remains one of the leading voices in today's hip hop scene with a slew of hit singles, albums, and mixtapes released in the past decade.
Jennifer Ehle - Katherine O'Brien
Stepping in as Steve Harmon's cold yet pragmatic defense attorney Katherine O'Brien is Jennifer Ehle. With credits going back to her theatre work back in 1991, Ehle has remained a major player in film, television, and the stage with memorable roles in everything from the 1995 Pride and Prejudice miniseries to the pandemic thriller Contagion in 2011. If neither of those titles ring any bells then you'll surely remember Ehle from the Fifty Shades franchise, in which she plays Carla Wilks.
Tim Blake Nelson - Leroy Sawicki
Tim Blake Nelson plays Leroy Sawicki, Steve Harmon's high school film teacher who inspires him to document the world around him. Over the years, the actor/writer/director has appeared in everything from Coen brothers movies like O Brother, Where Art Thou? and The Ballad of Buster Scruggs to entries in the Marvel Cinematic Universe with The Incredible Hulk, as well as the the HBO series Watchmen. Nelson has also written and directed his fair share of movies over the years including Leaves of Grass, Anesthesia, and Kansas.
Nasir 'Nas' Jones - Raymond 'Sunset' Green
Legendary rapper and producer Nasir "Nas" Jones takes on the role of Raymond "Sunset" Green, a fellow inmate who helps Steve Harmon navigate life behind bars and is more like a spiritual leader in the sense that he works with the young high school student to help him learn how to put his mind at ease and not let the system get him down. Largely known for his rap career, which kicked off with 1994's Illmatic, Nas has made several film appearances including Hype Williams' 1998 hidden gem Belly where he shared the screen with the late DMX.
Paul Ben-Victor - Anthony Petrocelli
Leading the prosecution against Steve Harmon in Monster is Paul Ben-Victor's Anthony Pretrocelli, who is hellbent on proving that the high school student and aspiring filmmaker isn't as innocent as he claims. Probably best known for his portrayal of Greek crime boss Spiros "Vondas" Vondopoulos on The Wire, Ben-Victor's career in film and television goes back more than 30 years. Over on the film side of things, Ben-Victor has shown up in staples of the early '90s like Tombstone and True Romance as well as more recent movies like The Irishmen and The Banker. He's also had roles on shows like Entourage, NYPD Blue, and Monk to name a few.
Jharrel Jerome - Osvaldo
Jharrel Jerome is seen in Monster as Osvaldo, a Harlem teenager who despite being an accomplice in the robbery gone wrong, hopes to get a full acquittal based on his age and testimony. Prior to the filming of Monster a few years back, Jerome came on the scene with a memorable performance in Moonlight, in which he appeared as the teenage version of Kevin, Ciron's (Ashton Sanders) longtime friend and romantic interest. Since then, Jerome has gone on to win an Emmy and multiple other awards for his portrayal of Korey Wise in When They See Us and recently appeared in Concrete Cowboy.
Jonny Coyne - Detective Karyl
Detective Karyl is one of NYPD detectives investigating the bodega robbery gone awry in Monster and the investigator who is determined that Steve Harmon is involved in the murder. Over the years, Coyne has appeared in a number of movies including Nightcrawler, Ma Rainey's Black Bottom, and even Lara Croft: Tomb Raider — The Cradle of Life. The English actor, however, is more known for his various television roles over the years which include everything from The Blacklist to Preacher and Turn: Washington's Spies to Mom, with dozens upon dozens of smaller roles and one-off appearances mixed in.
Lovie Simone - Renee Pickford
Relative newcomer Lovie Simone appears as Renee Pickford, Steve Harmon's love interest in Monster. The new Netflix movie was Simone's first film production at the time but has gone on to show up in Share, Selah and the Spades, and the 2020 supernatural horror film The Craft: Legacy, portraying Tabby. Simone got her first big break in the acting world with a recurring-turned-main role on Greenleaf from 2016 to 2020. She has since shown up in Orange is the New Black, Blue Bloods, and Social Distance.
Mikey Madison - Alexandra Floyd
Mikey Madison shows up in Monster as Alexandra Floyd. Prior to landing a role in the Netflix crime drama, Madison made a name for herself on the FX comedy series Better Things. She has had a few more film appearances in the years since filming Monster with the most notable being as "Sadie" one of the members of the Manson Family who decide to target Rick Dalton (Leonardo DiCaprio) instead of Sharon Tate in Once Upon a Time in Hollywood. In case you're wondering, yes, she was the cult member who was incinerated in Dalton's pool. She will next appear in the 2022's Scream though her role has yet to be revealed.
This is just the main cast from Monster and there are tones of other great actors who appear in the gripping legal drama throughout its duration. If you've finished the movie and now want to see what else is coming to theaters this year (especially those featuring Jennifer Hudson and Jeffrey Wright), check out CinemaBlend's list of 2021 movie premiere dates.
Your Daily Blend of Entertainment News
Philip grew up in Louisiana (not New Orleans) before moving to St. Louis after graduating from Louisiana State University-Shreveport. When he's not writing about movies or television, Philip can be found being chased by his three kids, telling his dogs to stop yelling at the mailman, or yelling about professional wrestling to his wife. If the stars properly align, he will talk about For Love Of The Game being the best baseball movie of all time.
Your Daily Blend of Entertainment News
Thank you for signing up to CinemaBlend. You will receive a verification email shortly.
There was a problem. Please refresh the page and try again.