What's Up With Angelina Jolie, Ben Affleck And Other Celebs Meeting Up With Their Exes?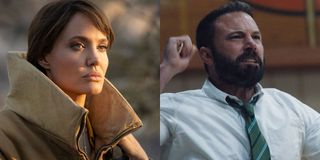 The saga of Bennifer getting back together has been all over the interwebs in recent weeks. There's a charm to two former lovers -- who also happen to be celebrities-- getting back together after having been one of the most heavily spotlighted couples in the early 2000s. However, while the two lovebirds getting back together is fascinating, they aren't the only big names meeting up with their exes recently, as Angelina Jolie and Ben Affleck's other ex Jennifer Garner also make the list.
Maybe it's the pandemic making us a little nostalgic and in fact, I don't really know what's up with this shift in the ways celebs seem to be spending time. But Ben Affleck and Jennifer Lopez's reunion is hardly the only celebrity reunion that's occurred recently. In fact, it's becoming quite the trend that other A-listers are embarking on this summer, to spend time with exes both new and old. Here are some lovebirds who have reunited -- both as couples or for casual occurrences -- so far.
Ben Affleck and Jennifer Lopez: The Return Of Bennifer 2021
Shortly after JLo's break-up with Alex Rodriguez, Jennifer Lopez was seen back on the town with none other than Ben Affleck. Affleck wasn't exactly newly single, having broken up with Hollywood It Girl Ana de Armas earlier in the pandemic. However, things did seem to get serious with JLO and Ben Affleck really fast, as the two have gone on vacation and Lopez is allegedly even contemplating a move to Los Angleles. Best of all? Lopez's mom allegedly approves of the match.
When A-Rod Met His Own Ex Cynthia Scurtis
The papers have been all aflutter about Jennifer Lopez and Ben Affleck's reunion and during that time A-Rod seemed content to spend time with his family and make the occasional (maybe) dig at JLo. But this week, he also embarked on the "say hello to your ex" train, meeting up with his former wife Cynthia Scurtis, whom he has several children with and was married to until 2008. The two met up for a 54D workout session -- which helped Alex Rodriguez to drop some weight after his break-up -- and there are pics to prove it.
Angelina Jolie Too Is Spending Time With One Of Her Exes
Angelina Jolie has notably been married three times, to Jonny Lee Miller, Billy Bob Thornton, and breaking the two first-name rule, Brad Pitt. It was her first husband she was recently spotted spending time with, as Jolie was seen heading to Miller's apartment and leaving a few hours later during a recent trip to New York. Whatever's going on there is not exactly elementary to figure out; however, it should be noted that both Jolie and Miller have had positive things to say about one another since their initial split.
Jennifer Garner Reportedly Got Back With Her Ex Just Before Ben Affleck Reunited With JLo
I know the Angelina Jolie scenario is kind of an outlier here, but Ben Affleck's other major ex Jennifer Garner, with whom he shares three children, has also been on the celebs-getting-back-with-exes train. Garner quietly split up with her partner John Miller just prior to or around the start of the pandemic. Cut to early May of 2021 and it seems as if the exes are back on again.
In some of these aforementioned cases, getting back together as a couple is very different than being spotted out in the wild with an ex. It's worth pointing out, too, that a couple of weeks ago Jennifer Lopez hung out with other ex Marc Anthony over coffee, though in that case the two share kids together, so I'd assume that's less of an odd occurrence. The point is, people do sometimes see exes for a variety of reasons and I'd assume the more complications -- like children and pets -- in previous relationships, the more often seeing your ex is a necessity. But the glut of times this has happened recently, albeit for different reasons, is just uncanny. Maybe we should be declaring it "hot ex summer."
Reality TV fan with a pinch of Disney fairy dust thrown in. Theme park junkie. If you've created a rom-com I've probably watched it.
Your Daily Blend of Entertainment News
Thank you for signing up to CinemaBlend. You will receive a verification email shortly.
There was a problem. Please refresh the page and try again.