The Best Tom Hiddleston Movie Performances, Ranked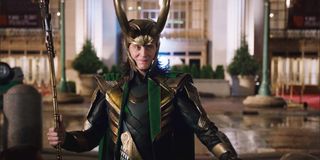 Tom Hiddleston has a very diverse body of work that includes plays, movies, television shows, and even voice acting. He's played a lot of great roles. However, most will always know him as Loki, the one burdened with glorious purpose. In June 2021, Marvel gave fans what they've always wanted: a Loki series. Fans may have to wait until Loki Season 2 to see Hiddleston take on the iconic role again, but the Marvel anti-hero is just one of the best Tom Hiddleston roles.
Though Hiddleston has been in critically acclaimed TV shows like The Night Manager and given highly praised performances in plays like Coriolanus, Betrayal, and Hamlet, we're limiting this list to ranking the best Tom Hiddleston roles and performances in movies. For this list, I mainly selected only films where he had a significant amount of screen time or his character was vital to the film's plot. So, let's begin our ranking of Tom Hiddleston's best movie performances.
10. Midnight in Paris (F. Scott Fitzgerald)
Midnight in Paris is the Woody Allen movie about writer Gil Pender (Owen Wilson), who after midnight finds himself in 1920s Paris with the great artists of the time, such as Ernest Hemingway (Corey Stoll), Salvador Dali (Adrien Brody), and the Fitzgeralds, Zelda (Alison Pill) and F. Scott (Tom Hiddleston). Midnight in Paris is one of the best movies on Amazon Prime right now.
I don't (obviously) know F. Scott Fitzgerald personally, but every book I've read by him or about his life makes me believe that Hiddleston did an excellent job portraying The Great Gatsby writer. He came off like a quiet, talented writer madly in love with a wife who may be too much for him, but his devotion to her was too intoxicating to let go. I ranked this performance so low because Hiddleston is not in Midnight in Paris enough to fully let us see his version of Fitzgerald.
9. Archipelago (Edward)
Archipelago is a movie about a mother and her two children on holiday on the island of Tresco. They're there as a vacation and celebration before Edward (Tom Hiddleston) travels to Africa to perform volunteer work. Archipelago is one of Hiddleston's first film performances. He brings Edward to life in subtle, calm moments. We get a good sense of who Edward is from dialogue and his interactions with those around him.
He very much wants to seem like someone who has his life figured out, but he's clearly wearing a mask, like the rest of his family. Archipelago is a movie with less plot and more of a character study of a family falling apart, both as individuals and as a family. There is tension there, but more under the surface. Hiddleston plays Edward well but the film doesn't allow him to showcase too many varied emotions, at least not as much as some of his other roles.
8. Kong: Skull Island (Captain James Conrad)
Kong: Skull Island is one of the recent additions to the King Kong and MonsterVerse franchise. Set in the 1970s, a group of Vietnam War soldiers and scientists end up on a mysterious island where King Kong is the least of their worries. Hiddleston's character, James Conrad, is hired to help as a hunter-tracker. He joined the trip kind of as someone just there to fight if necessary, but he eventually becomes the leader and helps keep many of them alive.
When you think of Hiddleston, you don't necessarily think action-star. However, he manages to be pretty badass as Conrad in Kong: Skull Island. It's a different role from Hiddleston's norm, and he does a great job of convincing you that he could kick your butt if necessary. Kong: Skull Island is an enjoyable action movie but like many action movies, it doesn't quite give its actors a range of plot points to work with to show off their acting skills.
7. War Horse (Captain James Nicholls)
War Horse is Steven Spielberg's 2011 drama about the bond between a young boy and his horse during World War I. Some consider War Horse one of Spielberg's best films. It's an emotional roller coaster that easily consumes you as you watch it.
Tom Hiddleston is only in War Horse for a short period, but in that small time frame, he's able to let you know everything you need to know about James Nicholls. He's a good man, but maybe too good to survive this war. I'm sure if Hiddleston's character had more time in War Horse, he would definitely rank a bit higher.
6. High-Rise (Robert Laing)
High-Rise is one of those films that feels very surreal, and it being set in the '70s makes the whole trippy, stylistic nature feel right. In basic terms, it's a film about a group of people living in a new luxury high-rise. Some are from lower classes and others more wealthy. Tom Hiddleston's character, Robert Laing, is in the middle of the high-rise and of medium wealth.
Hiddleston is the star of this film, and he must be the narrator and a character who hasn't quite lost it yet, like the others, but easily able to go either way. Hiddleston keeps Laing as the moral compass for most of the film. However, he's a very shaky compass, as his ambition and desires could easily push him over the edge.
5. The Deep Blue Sea (Freddie Page)
Tom Hiddleston stars opposite Rachel Weisz in this film about a woman who begins an affair. Hester (Rachel Weisz) eventually leaves her husband, William (Simon Russell Beale), for her lover, Freddie (Tom Hiddleston). The romance between Freddie and Hester is very passionate, but not the most stable romance.
It's easy to see why Hester falls for Hiddleston's Freddie: he's exciting, attractive, and a bit dangerous. He's the quintessential posh bad boy. However, you can also easily see why this relationship is doomed to fail. It's passionate but lacks security and emotional stability. Hiddleston makes you love and hate Freddie all in a matter of moments and makes you empathize with Hester's dilemma.
4. Thor (Loki)
Thor follows Thor (Chris Hemsworth) as he's banned from Asgard and sent to Earth as punishment for his reckless behavior. While on Earth, Thor learns what it truly means to be a king and hero. Meanwhile, his brother Loki (Tom Hiddleston) is plotting to take over Asgard.
I think many Marvel Cinematic Universe fans fell in love with Loki the minute he made his debut in Thor. The Marvel movies have just made fans grow even more fond of Loki. The reason fans fell in love with Loki in the first Thor movie is because Hiddleston portrayed him with so much depth. He was never just a villain. He was a man who always felt he was different and in his brother's shadow. That misplaced loneliness and anger led to bad decisions, but he's Loki, so you kind of just forgive him.
3. Crimson Peak (Sir Thomas Sharpe)
Crimson Peak is Guillermo del Toro's Victorian Gothic film about a young woman, Edith (Mia Wasikowska) who marries a man named Thomas (Tom Hiddleston) and goes to live with him and his sister, Lucille (Jessica Chastain), at their mansion called Crimson Peak. Unfortunately, ghosts have been warning Edith for years to stay away from Crimson Peak.
Something about Tom Hiddleston screams Victorian Gothic villain or love interest, so he was perfectly cast in Crimson Peak. Hiddleston also plays anti-heroes or villains turned sympathetic extremely well. He's able to seduce viewers as he seduces Edith, have them turn against him, and then pull them right back in when he shows that he has a heart. Lovable villains/anti-heroes are Hiddleston's bread and butter. He does it so well. Crimson Peak is currently one of the best movies on Netflix.
2. Only Lovers Left Alive (Adam)
You know what Tom Hiddleston also screams? Actor who could play the heck out of a vampire. He gets that chance in Only Lovers Left Alive. He stars opposite Tilda Swinton in Jim Jarmusch's dramedy vampire flick. Only Lovers Left Alive follows vampire soulmates Adam (Hiddleston) and Eve (Swinton) as they're reunited after some time apart.
At times, Adam is so tragic. He's the depressed vampire that has become the norm in pop culture, but then other times, Adam is hilarious. In particular, when Adam and Eve have to deal with Eve's annoying sister, Ava (Mia Wasikowska), Only Lovers Left Alive becomes extremely funny. Swinton and Hiddleston play off each other well and you completely believe they are these vampire soulmates, forever linked. Only Lovers Left Alive is one of Hiddleston's most nuanced performances as he adds so many comedic and dramatic layers to Adam.
1. Thor: The Dark World (Loki)
Thor: The Dark World is the 2013 sequel to Thor. It follows Thor's rule of Asgard as the Dark Elves start to make trouble for him and those who he loves back on Earth, like Jane Foster (Natalie Portman). The Thor universe movies are probably my personal favorite Marvel Cinematic Universe movies, but I think we can all agree that Thor: The Dark World was one of the weaker Thor and the MCU movies. However, this is the best Loki movie.
It's after the Avengers, where he went full baddie and tried to take over Earth. This movie redeems Loki and fully establishes him as this complex character who will never quite be good and will never quite be evil. The tone of Loki as a character is set in Thor: The Dark World. We see this version of Loki in Thor: Ragnarok and the Loki TV series. He's a trickster but he's also this character who will always be ruled by his emotions and ties to those he loves, despite himself.
As far as we know Tom Hiddleston's upcoming projects don't involve any 2021 movies coming out, so we have to wait until 2022 to see his next best role in movies, but we'll be anxiously waiting to see what new Tom Hiddleston character we'll grow to love, whether they be antihero, hero, or just a man. Loki Season 1 is available to stream on Disney+. Stream it here.
Your Daily Blend of Entertainment News
Spent most of my life in various parts of Illinois, including attending college in Evanston. I have been a life long lover of pop culture, especially television, turned that passion into writing about all things entertainment related. When I'm not writing about pop culture, I can be found channeling Gordon Ramsay by kicking people out the kitchen.