Rupert Grint Movies And TV Shows: What To Watch If You Like The Harry Potter Star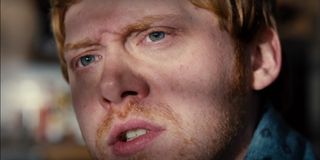 CinemaBlend participates in affiliate programs with various companies. We may earn a commission when you click on or make purchases via links.
Rupert Grint entered the world of acting at a very young age as the perfectly cast Ron Weasley in the Harry Potter movie franchise. These films helped make Grint, Emma Watson, and Daniel Radcliffe household names and adored child actors. Since Harry Potter, each of these actors has paved their own path in Hollywood. It goes beyond the world of witches and wizards. Rupert Grint has taken on a varied body of projects, especially in the TV realm. Most Rupert Grint movies and TV shows are unique and fascinating to watch.
We may not see Rupert Grint in any upcoming Harry Potter movies but he has many captivating and intriguing movies and shows available to stream or rent. Let's look at some of the best Rupert Grint movies and TV shows to watch online.
The Harry Potter Movies (Peacock)
The Harry Potter movies start with an eleven-year-old boy named Harry (Daniel Radcliffe) who discovers that he's a wizard. He then enters Hogwarts and the world of wizardry. With his best friends Hermoine (Emma Watson) and Ron (Rupert Grint), Harry will have to face many magical and emotional challenges along the way.
The Harry Potter films are what started Grint's career, so it couldn't hurt to stream them, especially when there are eight movies to binge. This gives you plenty to watch. The Harry Potter movies often change streaming services, but these films should be on Peacock for a while. If not, the Harry Potter movies are some of the best movies on Amazon Prime to rent.
Stream the Harry Potter movies on Peacock.
Rent the Harry Potter movies on Amazon.
Servant (AppleTV+)
Servant is an AppleTV+ original series that follows a Philadelphia couple who experience a tragic loss. Dorothy (Lauren Ambrose) isn't able to cope with the loss, so retreats to a fantasy. Her husband Sean (Toby Kebbell) indulges this fantasy until they hire a new nanny. The nanny isn't as she appears and makes the fantasy start to become a reality.
Rupert Grint plays Dorothy's younger brother Julian. He's a dubious character who may not have his life fully figured out, but he has a deep love and devotion to his sister that seems to be a source of some of his bad decisions. Servant is one of AppleTV+'s best shows. The writing is strong but the acting from the four main leads is what takes it to another level of entertainment.
Driving Lessons (Amazon)
Driving Lessons is a 2006 coming-of-age comedy about a young boy who takes on his first adult job, driving around an aging actress. Driving Lessons' cast includes Julie Walters, Rupert Grint, Laura Linney, and Nicholas Farrell. Driving Lessons is one of Rupert Grint's first non-Harry Potter roles.
The movie is about Grint's character Ben's emotional journey to adulthood and this unexpected friendship that allows him to free himself. Through his friendship with Evie (Julie Walters), Ben is able to move forward in his life and take a big leap toward more freedom and a better future. He's able to take a step towards understanding himself. Driving Lessons is a fun coming-of-age story with a strong cast.
Rent Driving Lessons on Amazon.
CBGB (Tubi)
CBGB is a 2013 drama about the formation and rise of the New York music venue CBGB (Country, Bluegrass, and Blues). The club had a big influence on the growth of the underground punk and rock scenes. CBGB stars Alan Rickman, Ashley Greene, Malin Akerman, Ryan Hurst, and Donal Logue.
Rupert Grint plays Cheetah Chrome, the guitarist for the punk rock band Dead Boys. The Dead Boys are regulars at CBGB, so Kristal (Rickman) decides to try to manage them. CBGB is one of Grint's first post-Harry Potter roles. It's quite different from Ron but Grint plays this character well. He's the right mixture of weird and fun.
Sick Note (Netflix)
Rupert Grint along with Nick Frost was the lead of Sick Note Series 1 and 2. The show follows Daniel, a young man misdiagnosed with terminal cancer. Because Daniel enjoys the perks and kind treatment since his misdiagnoses, he decides to not tell people the truth about the misdiagnoses. Daniel teams up with the doctor who misdiagnosed him, Dr. lain Glennis (Nick Frost) to keep the lie a secret.
Things are complicated even more when Daniel becomes involved in a possible murder plot and cover-up. This comedy series aired in 2017 and 2018. It has 14 episodes total. This comedy has a dark premise but you can't help but enjoy the ridiculousness of the situation and Grint and Frost as a comedy duo that eventually adds Lindsay Lohan to the mix.
Snatch (Netflix)
Snatch is a series based on the Guy Ritchie movie of the same name. It follows a group of young criminals who scam, steal, and commit all kinds of illegal activity. This Crackle original TV series lasted for two seasons and starred Luke Pasqualino, Rupert Grint, Lucien Laviscount, and Phoebe Dynevor.
Like the movie it's based on, Snatch is an entertaining series that doesn't take itself too seriously, which allows the viewers to come along for the wild ride. It's full of great characters to love or loathe. It's also one of Rupert Grint's best roles as his character Charlie is really entertaining to watch.
Wild Target (AppleTV Rental)
Wild Target is a 2010 black comedy about an assassin who decides to not kill his target. This comedy has an A-list cast that includes Bill Nighy, Emily Blunt, Rupert Grint, Rupert Everette, Eileen Atkins, and Martin Freeman.
Wild Target is one of those quirky comedies that is silly but that's half the charm. It has a great cast that includes future star Blunt, who gives one of her more offbeat performances. Grint gives an equally kooky performance in his role, but as a supporting character so he's not as prevalent as Blunt and Nighy.
Cherrybomb (Tubi)
Cherrybomb is a drama that stars Rupert Grint, Robert Sheehan, Kimberley Nixon, and James Nesbitt. The film follows best friends Malachy (Grint) and Luke (Sheehan) as they fall deeper into the world of drugs, crime, and sex as they engage in activity to impress new girl Michelle (Nixon). Cherrybomb is essentially about teens in pain who try to escape that through less than productive or healthy activity.
For the most part, much of Grint's post-Harry Potter work has been comedies or dark comedies. Cherrybomb offers a slight deviation from Grint's norm in a much darker role. Cherrybomb is one of both Grint and Sheehan's earlier film roles, and they both give excellent performances in it.
Agatha Christie's The ABC Murders (Amazon Prime)
Agatha Christie's The ABC Murders is a BBC One mini-series based on Agatha Christie's novel of the same name. It stars John Malkovich as the famous Hercule Poirot. The ABC Murders cast also includes Andrew Buchan, Tara Fitzgerald, and Rupert Grint. The mini-series ran for three episodes in 2018.
Rupert Grint plays Inspector Crome in the show. He plays a character at first reluctant to work with Poirot but later they partner up to solve the mystery. You can often depend on Christie to produce a fascinating and entertaining murder mystery, The ABC Murders is no exception and the BBC does a good job of bringing Poirot's world to life. It's a quick watch so definitely a good mystery miniseries to watch.
Stream Agatha Christie's The ABC Murders on Amazon Prime.
Moonwalkers (Tubi)
Set in 1960s London, Moonwalkers follows a CIA Agent and rock band manager who team up to stage the moon landing. The film stars Ron Perlman, Rupert Grint, and Robert Sheehan. The quest to meet Stanley Kubrick and film a fake moon landing really takes these characters on one trippy adventure.
Moonwalkers has a cool concept because you often hear conspiracy theories on the whole moon landing debate. The film plays on that idea and takes it to ridiculous levels. The film has a great ensemble cast lead by Perlman. It's also great to see Sheehan and Grint reunited on screen, this time in a more comedic film.
Stream Moonwalkers on Amazon Prime.
Into the White (Amazon)
Into the White is a World War II drama about two sets of planes that crash in the middle of a snowstorm. One of the crashed planes included German soldiers and the other two British soldiers. These two sets of war enemies must work together to survive, which isn't easy with the contempt both sides have for one another.
Into the White is loosely based on a real event. The film explores the question of can enemies work together when there is a greater enemy at hand, surviving the elements. The film presents an often unseen image of World War II, one where the Germans and the British have to work together. It shows that peace and friendship isn't really an option at this moment, but it could be in the future.
Rent Into The White on Amazon.
Rupert Grint, unfortunately, doesn't have many movies on Netflix but this list should provide plenty of other streaming options for those wanting to watch more Rupert Grint movies and TV shows. Rupert Grint can next be seen in Servant Season 3.
Your Daily Blend of Entertainment News
Spent most of my life in various parts of Illinois, including attending college in Evanston. I have been a life long lover of pop culture, especially television, turned that passion into writing about all things entertainment related. When I'm not writing about pop culture, I can be found channeling Gordon Ramsay by kicking people out the kitchen.