Zombieland Cast: What The Actors Are Doing Now, Including Emma Stone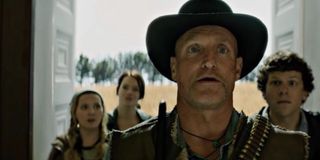 When it comes to zombie films, there are few that often stray from the simple course of survivors just needing to survive, shooting zombies and somehow staying alive. While there have been a couple that have sort of reinvented the zombie franchise in the last couple of years, such as Zack Snyder's Army of the Dead, only one film series stands out to me among the rest, and that's Zombieland, and its successor, Zombieland: Double Tap.
The wonderful combination of gore and hilarious jokes, plus the superb acting from the Zombieland and Zombieland: Double Tap cast made these films so much fun to watch, and became a wonderful addition to the world of zombie-comedy films, like Shaun of the Dead. But with casts as star-studded as some of these, where have they been seen before and what have they done, like Emma Stone? Are any of them going to be in the upcoming 2021 movies or 2022 movies? Luckily, we have that covered for you if you were a fan of these two great zombie films.
Woody Harrelson (Tallahassee)
Tallahassee is the kind of survivor we would all want as our partner in a zombie apocalypse, and was a great partner to Columbus in Zombieland and Zombieland: Double-Tap. Woody Harrelson portrayed the wise-cracking zombie killer and has been plenty busy since his zombie killing days.
From 2012 until 2016, Woody Harrelson portrayed Haymitch Abernathy in The Hunger Games movies. Afterwards, he would go on to have starring roles in hit films such as the coming-of-age film, The Edge of Seventeen, the action film, War for the Planet of the Apes, the space-western, Solo: A Star Wars Story, the anti-hero film, Venom, the war film, Midway, and several others. He also starred in True Detective for its first season in 2014.
In the next couple of years, Harrelson will be appearing in several films, like Venom: Let There Be Carnage, where he will reprise his role. He will also be appearing in films currently in production, called Triangle of Sadness and The Man from Toronto.
Harrelson will also be in two upcoming TV series, one called The White House Plumbers and the other called The Most Dangerous Man in America. There's truly no stopping this awesome actor.
Jesse Eisenberg (Columbus)
Columbus is a nerd - but he's a surviving nerd and that's all that matters in the rules of Zombieland and Zombieland: Double Tap. Jesse Eisenberg played Columbus in both films, and has been on a roll since his time in the zombie world.
Jesse Eisenberg went on to play Facebook founder Mark Zuckerberg in The Social Network, Blu in the Rio animated film series, and have a starring role in the heist series, Now You See Me, with a third film on the way. Eisenberg also portrayed the iconic DC villain, Lex Luthor, in both Batman v. Superman: Dawn of Justice, and in the two Justice Leagues that released afterwards. In 2021, Eisenberg also had a role in the thriller film, Wild Indian.
In the upcoming years, he will have a role in several films, one titled The Medusa, and another titled Manodrome, so keep an eye out for this talented star.
Emma Stone (Wichita)
Wichita in both Zombieland and Zombieland: Double Tap is the epitome of what a badass girl should look like and be in the zombie world, and is a character I will always love to root for. Emma Stone, in one of her earlier roles, portrayed Wichita perfectly, and since then, she's gone on to have quite the career.
Stone won the Academy Award for Best Actress for her role in the musical La La Land in 2016, certifying her amazing acting skills. Besides that, Stone has been in plenty of critically acclaimed and well-received films, such as the comedy film, Easy A, the historical film, The Help, playing Gwen Stacy in The Amazing Spider-Man films, starring in the Academy-Award-nominated Birdman and The Favourite, played the titular character in the Disney live-action film Cruella, and so many more. She was also a star in the Netflix miniseries, Maniac, alongside Jonah Hill.
Coming up, she will be appearing in a new film titled Poor Things, and a TV series called The Curse. With how much she's done in the last decade, I can't wait to see what she does next.
Abigail Breslin (Little Rock)
As the last of the original cast to appear in both films, Little Rock was adorably badass in Zombieland, and managed to keep some of her original character in Zombieland: Double Tap. Abigail Breslin portrayed the younger sister to Wichita both times.
Breslin has been in many different genres of film since her time in the zombie world. She was in the animated film, Rango, the sci-fi movie, Ender's Game, starred alongside Matt Damon in 2021's Stillwater, and several others. One of her biggest roles thus far was playing Libby Putney in Ryan Murphy's Scream Queens for two seasons.
Coming up, Abigail Breslin will be in a couple of films, Slayers and Saturday at the Starlight, so she's sure to pop up in movies theaters soon.
Bill Murray (Himself)
While Bill Murray didn't play an original character in Zombieland, his fictionalized version of himself will always make me hold my sides in laughter every time I watch. Bill Murray has been active in Hollywood for decades now, and that hasn't changed ay all, because he's filmed plenty of movies since Zombieland's release.
Since his appearance in Zombieland, Murray has been in several big films, such as Moonrise Kingdom, The Grand Budapest Hotel, Dumb and Dumber To, the Wes Anderson film, Isle of Dogs, the zombie film, The Dead Don't Die, and many others. Coming up this year, he will be appearing in both the new Ghostbusters: Afterlife film, and have a role in the anticipated The French Dispatch, so it seems that 2021 is going to be Bill Murray's year.
Rosario Dawson (Nevada)
As the first character who only appeared in Zombieland: Double Tap, Nevada was a great character to introduce to the sequel, and her Elvis-themed hotel was to die for. Rosario Dawson, who played Nevada in the film, has been acting in Hollywood for some time, and only continues to do so.
You might have seen her hits like the comedy, Zookeeper, Sin City: A Dame to Kill For, The Water Man and more. She's also continuously voiced Diana Prince, otherwise known as Wonder Woman, in several DC animated films and TV shows - including 2021's Space Jam: A New Legacy.
Dawson also had a major role in Netflix's Defender's universe, where she played Claire Temple in Daredevil, Luke Cage, Jessica Jones, Iron Fist, and The Defenders series. She also had a recurring role in the cast of Jane the Virgin.
Recently, she took the playing the live-action version of Ahsoka Tano in Disney+'s The Mandalorian, and will continue to play the character in the upcoming spinoff, titled Ahsoka. She will also be in a couple new films, titled Clerks III and Speed of Light, as well as another new miniseries called DMZ.
Zoey Deutch (Madison)
I mean, I think all of us loved and hated Madison in Zombieland: Double Tap, but that doesn't mean that Zoey Deutch wasn't a great actress to pick for the role.
Deutch has appeared in several different movies, namely the fantasy film, Beautiful Creatures, the teen fantasy movie, Vampire Academy, the teen drama film, Before I Fall, the biographical film, The Disaster Artist, and more. Zoey Deutch also had a main role on the Netflix series, The Politician.
In the next couple of years, Deutch will be in a few new films, titled The Outfit, Not Okay, and Hound, so hopefully we will get to see more of this talented actress.
Luke Wilson (Albuquerque)
Albuquerque is basically Tallahassee except a bit younger and I am all here for it, because he brought some great comedy to Zombieland: Double Tap. Only a star like Luke Wilson could play someone like him perfectly, and it's no surprise that he's been busy in Hollywood just like the rest of his co-stars.
Wilson has appeared in plenty of hits during his time as an actor, including The Legally Blonde movies, the Netflix original film, The Ridiculous 6, The Goldfinch, another Netflix original film, All the Bright Places, 12 Mighty Orphans and more. Recently, Wilson has taken on a role in the Disney+ original series, Stargirl, and will continue that into its next season.
Wilson will also be in several new films, including Gasoline Alley alongside Bruce Willis, The Cleaner, and Plus/Minus. He will also be in an upcoming TV series titled New-Gen.
Avan Jogia (Berkeley)
Oh, Berkeley. You gotta love him and hate him at the same time. I mean, who has ever heard of a pacifist in a zombie apocalypse? But that's who he was in Zombieland: Double Tap, played by the wonderful Avan Jogia, who has been around for some time.
Jogia has mainly kept his career towards TV during his time in Hollywood. He grew in fame when he had a main role on the Nickelodeon show, Victorious, as Beck, and continued to star in several other shows after it ended. Avan Jogia had the lead role in the teen drama mystery series, Twisted, the lead role in the miniseries, Tut, the lead role in the SyFy series, Ghost Wars, the lead role in comedy TV series, Now Apocalypse, and part of the main cast in The Stranger on Quibi.
In 2021, he is going to be playing legendary video game character Leon S. Kennedy in the upcoming adaptation, Resident Evil: Welcome to Raccoon City, and have a role in a film titled Door Mouse. With a resume that packed with TV work, I hope that he takes that talent to film more and we get to see him on the big screen soon.
Thomas Middleditch (Flagstaff)
Flagstaff is a mirror of Columbus in Zombieland: Double Tap, and has plenty of commandments for survival just as Columbus does. Thomas Middleditch, who played Flagstaff, did a great job of mirroring those same traits of Columbus and creating some funny moments.
Middleditch has appeared in several films, such as the sports comedy, The Bronze, the comedy film, Tag, the monster film, Godzilla: King of the Monsters, and had voice role in Disney+'s original film, Phineas and Ferb the Movie: Candace Against the Universe.
However, Middleditch has been also super active in TV as well. He had one of the main roles in popular comedy series, Silicon Valley, and went on to voice and write for Penn Zero: Part-Time Hero. Currently, he is voicing a main role in Solar Opposites, an adult animated sitcom made by the Rick and Morty creators, and has a role in the sitcom, B Positive on CBS.
These two roles will likely continue into the next couple of years, so if you're a fan of this talented and funny actor, be sure to check out his latest TV series.
With how much these big stars have done, there's no surprise that you've most likely seen them in some way or another throughout their years in the industry. Maybe if there's a possible Zombieland 3 we might get to see them all together again, but if not, I'll have to tune in to whey they're all doing next.
Big nerd and lover of Game of Thrones/A Song of Ice and Fire. Will forever hate season eight. Superhero and horror geek. And please don't debate me on The Last of Us 2, it was amazing!
Your Daily Blend of Entertainment News
Thank you for signing up to CinemaBlend. You will receive a verification email shortly.
There was a problem. Please refresh the page and try again.