Blake Lively Hilariously Throws On A Bikini In Support Of Ryan Reynolds' Free Guy Release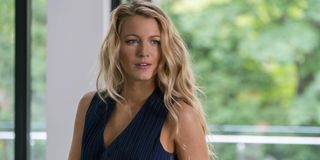 Free Guy has been a long time coming. The Ryan Reynolds comedy's release date was pushed back a grand total of three times due to COVID-19, going from a 2020 release to a mid-2021 premiere. Considering the waiting game fans have had to play, it's only fair that the stars of the movie are encouraging people to come see the film. And their families are in on it too: Blake Lively, Ryan Reynolds' wife, celebrated the release of Free Guy in a particularly cheeky way (I promise, that pun will make sense soon).
Blake Lively is famous for her sense of humor - it's probably what makes her and Ryan Reynolds such a perfect match. To support the release of her husband's long-awaited film Free Guy, she posted a punny promo shot on her Instagram story. The snapshot has since been erased, as per typical Insta story protocol, but we have the receipts. Take a look below:
Bummed. Bum. Get it? As I said, cheeky. The Instagram story post features Blake Lively baring it all in a cute little printed bikini in an unnamed tropical paradise alongside a photoshopped image of Ryan Reynolds' character Guy from Free Guy. The NPC appears to be staring agape at Blake Lively, which, okay, fair enough. Not to be outdone, Ryan Reynolds also took an opportunity on Instagram to promote Free Guy while simultaneously roasting his wife. The perfect flirt to roast ratio: that's how you know it's true love.
This isn't the first time Blake Lively has joked around about and with Ryan Reynolds on social media. Ryan Reynolds is a notorious internet troll, but Blake Lively has shown herself to possess an equally silly sense of humor. She's even been known to add her two cents to some of the jokes in Ryan Reynolds' self-penned scripts, including his hit superhero saga Deadpool. The couple's attempts to troll each other don't let up; not even on birthdays or in COVID-19 quarantine. It's all in good fun, of course, and makes both of them a delight to follow on Instagram and other social media sites.
In addition to Ryan Reynolds, the star-studded ensemble cast of Free Guy also stars the Emmy and BAFTA-winning Jodie Comer (Killing Eve), the Oscar-winning Taika Watiti (What We Do in the Shadows, JoJo Rabbit), Joe Keery (Stranger Things) and Lil Rel Howery (Get Out, Judas and the Black Messiah). Originally intended for a July 3, 2020 release, the Shawn Levy-directed comedy has now premiered in theaters. Currently it's only on the big screen and not on any streaming platforms, but you can count on us to let you know when you'll be able to watch it in your home.
Actor, singer, and occasional dancer. Likes: fashion, books, old buildings. Dislikes: cilantro, the NJ Turnpike, sneaker wedges.
Your Daily Blend of Entertainment News
Thank you for signing up to CinemaBlend. You will receive a verification email shortly.
There was a problem. Please refresh the page and try again.