I'm So Into Jennifer Garner Apparently Giving Her Chickens Celeb Names, But With Puns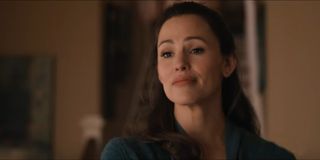 If you follow Jennifer Garner on Instagram, you've seen the actress share peeks into her home life, including her homemade recipes and numerous mom moments. From time to time, Garner gives fans a look into her life raising chickens. But the Alias alum has never revealed their names until now. In a surprising twist, Garner gave them celebrity names but with a pun-filled twist.
The Yes Day star gave viewers a peek into her life as a caring chicken mother while on The Ellen DeGeneres Show. The sweet, pun-filled exchange came to light as a clip was posted on the show's Instagram. The caption perfectly summed up the moment by mentioning how lovable Jennifer Garner is. To watch what Garner said about raising her chickens, see the full exchange between the actress and Ellen DeGeneres below:
It's adorable to see Jennifer Garner speaking so lovingly about her chickens. But given Garner's personality, giving her chickens' pun-filled celebrity names fell right in line. There was almost a sense of admiration she had for the celebrities she names her chickens after. The actress said about dealing with her super healthy chickens:
Of course, Jennifer Garner didn't just use celebrity names for her animals. Another standout name was a nod to the classic comedy Mean Girls when one picture came up. She spoke about her deceased hen Regina George named after the film's notorious queen of mean. Unfortunately, the chicken's fate wasn't as rosy as the iconic character.
Jennifer Garner wasn't done with talking about her beloved chickens. The actress gave viewers a peek into what she goes through taking care of them every day. Garner revealed her routine when it comes to waking up her chickens every morning.
The chickens' attitude toward Jennifer Garner seems to mimic one of her children. Like typical children, they know she will always be there no matter what.
While all the talk centered around Jennifer Garner's chicken coop, the sweetest moment came when the actress revealed her fish's names. Jennifer Garner is a mom as she named her fish Nemo and Dory after the beloved Pixar film Finding Nemo. What made the moment even sweeter was talking to the actual voice behind one of Pixar/Disney's most memorable characters. Again, Garner showed just how much she loves naming her pets after certain characters and people she admires.
A boy from Greenwood, South Carolina. CinemaBlend Contributor. An animation enthusiast (anime, US and international films, television). Freelance writer, designer and artist. Lover of music (US and international).
Your Daily Blend of Entertainment News
Thank you for signing up to CinemaBlend. You will receive a verification email shortly.
There was a problem. Please refresh the page and try again.