John Cena Is Down For A Foursome In Vacation Friends Clip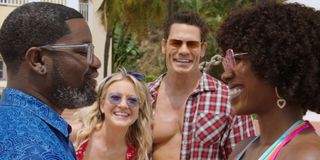 Have you ever made a friend at, say, camp or on vacation, who found the experience and therefore your bond to be much more meaningful than you did? Turn that premise up about ten notches and that's what happens to Marcus (Lil Rel Howery) and Emily (Yvonne Oriji) Hulu's upcoming original film, Vacation Friends, when they meet Ron (John Cena) and Kayla (Meredith Hagner) at a resort in Mexico.
Strait-laced Marcus and Emily let loose and enjoy a week of uninhibited fun and debauchery with their new "vacation friends" Ron and Kayla, who are wild, thrill-seeking partiers. Months after their walk on the wild side, Marcus and Emily are horrified when Ron and Kyla show up uninvited at their wedding, creating chaos. Fans are given a hilarious introduction to Ron, played by John Cena, in the movie clip below.
The clip opens on a golf course where Marcus (Lil Rel Howery) stands surrounded by his male friends and family (assuming the ladies attending the wedding have a different activity planned). As Marcus's father (played by Robert Wisdom) lays out the rules of the day, he mentions that the group should stay hydrated "with water" as the family is "very strict when it comes to alcohol, wagering, and profanity." Marcus is visibly nervous and a little sweaty as he watches Ron (John Cena) drive up in a golf cart.
Upon joining the rest of the men, John Cena's Ron is asked if he's comfortable in a foursome, referring to the way they've chosen to split into groups to play golf. Misunderstanding, Ron says, "as long as there's at least one girl involved." If this scene is any indication of the jokes were in for throughout the rest of the film, Vacation Friends promises to be a hilarious and wild ride.
As seen in the trailer, Ron and Kayla arrive unexpectedly and uninvited to Marcus and Emily's wedding. Because of this, we can infer from the golf clip above that the wild couple is able to convince the buttoned-up couple to stay and enjoy the wedding festivities. How did they accomplish that, exactly? It seems like there would be many ways around that, but maybe not!
What activity are the women engaging in for the day, and is Meredith Hagner's Kayla wreaking havoc on Yvonne Oriji's Emily, or are things going better there? What antics will these couples get into and who ultimately has the wilder side? The wait is almost over to find out!
Vacation Friends is streaming August 27 exclusively on Hulu in the United States and Internationally on Star on Disney+. For more to stream on Hulu, check out these August 2021 releases. CinemaBlend is always curating lists to help with your next TV or movie marathon like John Cena's funniest TV appearances and the best comedy films of 2020.
Obsessed with Hamilton and most things Disney. Gets too attached to TV show characters. Loves a good thriller, but will only tolerate so much blood.