Upcoming Lil Rel Howery Movies: What's Ahead For The Get Out Actor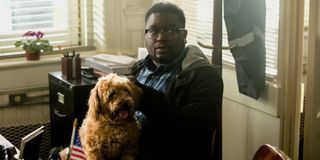 Ever since breaking out with his scene-stealing performance in 2017's horror film Get Out, Lil Rel Howery has become one of the hardest working and most consistent fresh faces in show business. With equally memorable appearances in everything from Bird Box to Uncle Drew, Howery has continued to take his newfound stardom and run with it. And, it's worked out tremendously, earning the stand-up comedian-turned-actor roles in 2021 movies like Judas and the Black Messiah and Tom and Jerry, with titles like Free Guy and Bad Trip on the way.
By the looks of it, Lil Rel Howery won't be slowing down at all in the next year or so, as he will share the screen with the likes of John Cena, Kevin Hart, and Ben Affleck, to name only a few. Since Howery has so much coming out, let's take a look at each of his upcoming movies…
Bad Trip - March 26, 2021 (Completed)
The next time we see Lil Rel Howery it will be in the hidden camera prank comedy film Bad Trip which is slated to land on Netflix on March 26. This absurdist comedy follows a career job-jumper named Chris Carey (Eric André) after he and his best friend Bud Malone (Howery) drive up the Eastern Seaboard so that Chris can profess his love to his high school crush after running into her at a car wash. The pair find themselves in all sorts of trouble along their journey, and things only get worse when Bud's sister, Trina Malone (Tiffany Haddish) discovers they have stolen her car in the process.
By the time Bad Trip is finally released, it will be around 18 months after it was originally slated to open in theaters, back in September 2019. The movie, which combines scripted elements with over-the-top pranks involving random passerby, has been pushed around quite a bit since then, having its SXSW 2020 premiere and subsequent theatrical run scrapped due to the pandemic. To make matters worse, the film was accidentally uploaded to Amazon Prime Video in April 2020 and then pirated before being taken down, according to Variety. Eric André eventually announced in February 2021 that Bad Trip would drop one month later.
Fatherhood - April 16, 2021 (Post-Production)
Lil Rel Howery will try his luck in a more dramatic film when he appears in the Kevin Hart-led Fatherhood, a film adaptation of Matthew Logelin's memoir Two Kisses for Maddy: A Memoir of Loss and Love. The movie, much like the book on which it is based, follows Logelin (played here by Hart) as he struggles to raise his daughter following the sudden death of his wife during childbirth. Howery will take on the role of Jordan, but little information is known about the character or any others being played by Alfre Woodard, Paul Reiser, and DeWanda Wise, to name a few.
Fatherhood has been in the works for a number of years now, and at one point was slated to feature Channing Tatum in the starring role before he dropped out and Kevin Hart entered. There have also been a series of setbacks surrounding the production and release of the film, both before and after the pandemic. Kevin Hart's 2019 car wreck and subsequent recovery also pushed back the start of production and release date. Originally slated for an April 2020 release, Fatherhood bounced from date to date before finally receiving its current premiere, slated for April 16, 2021.
Free Guy - August 13, 2021 (Completed)
Shawn Levy's upcoming sci-fi action comedy Free Guy follows Guy (Ryan Reynolds) a non-player character in the fictional open-world game Free City who has recently become aware that he is not a living, breathing bank teller, but instead just a small part of a video game. Armed with this knowledge, Guy sets out to change the game world, for the better. When the game's developer, Antoine (Taika Waititi) threatens to shut down the game, it's up to Guy, his best friend Buddy (Lil Rel Howery), and Molotov Girl (Jodie Comer) to save Free City.
First announced several years ago, Free Guy was produced back in the summer of 2019 and was even preparing to be released on July 3, 2020, before 20th Century Studios was forced to postpone the premiere until December 11, before removing it from the schedule entirely just weeks prior to its slated release. Free Guy was eventually put back on the schedule ,and will now land May 21, 2021.
Deep Water - January 14, 2022 (Post-Production)
By the time Adrian Lyne releases Deep Water in August 2021, it will be the English director's first movie since Unfaithful, which was released nearly 20 years ago. The filmmaker behind the 2002 romantic thriller starring Richard Gere and Diane Lane, as well as Lyne's other efforts (Lolita, Indecent Proposal, Fatal Attraction) should tell you all there is to know about Deep Water, the psychological drama featuring Ben Affleck and Ana de Armas as a married couple whose decision to play a series of mind games to save their marriage ends up harming those in their vicinity. Tracy Letts, Lil Rel Howery, Rachel Blanchard, and Jacob Elordi also have roles in the torrid affair.
Production on Deep Water began back in late 2019 (but there were reshoots as late as fall 2020) when the film was headed for a November 13, 2020 release through 20th Century Studios, but like every movie from last year, that release date was delayed, until January 14, 2022, it's current release date.
Vacation Friends - TBD (Post-Production)
At some point in the near future, Lil Rel Howery will share the screen with John Cena, the former WWE Champion and current champion of upcoming releases (F9, The Suicide Squad, his own HBO Max series Peacemaker) in the long-in-the-works comedy Vacation Friends. Written by Tim Mullen and Tom Mullen and directed by Clay Tarver, Vacation Friends will follow a straight-laced couple who meets a wild and crazy couple on vacation in Mexico who then follow them back home once the trip is completed. It has yet to be revealed who's playing who here, but we do know that Yvonne Orji and Meredith Hagner have joined the cast, per Deadline.
First announced way back in March 2014 with Chris Pratt and Anna Faris attached to star as one of the couples, Vacation Friends has gone through multiple versions, casts, and even directors, in the more than a half-decade since it was revealed. According to the Atlanta Journal-Constitution, production finally began in March 2020 but was halted shortly after and didn't resume for another six months. Vacation Friends is currently scheduled to be released by Hulu, but an exact date has yet to be revealed.
The Come Up - TBD (Pre-Production)
Those who thought Friday would have been better with a high-stake robbery like the one seen in Ocean's 11 (and the ones carried out in its sequels) will be excited to hear about The Come Up, an upcoming heist comedy based on a story written by Coming 2 America star Jermaine Fowler and directed by Oscar-winning filmmaker Matthew A. Cherry (the director of the animated short Hair Love).
There isn't a lot known about the movie at this point in time, but in addition to Fowler, The Come Up will also feature performances by Lil Rel Howery and the Lucas Brothers, who are probably best known for their roles in 22 Jump Street, according to Deadline. Expect to hear more about this one in the coming months.
Black Stallions - TBD (Announced)
And then there is Black Stallions, the horse racing comedy from Uncle Drew writer Jay Longino that Deadline first reported on back in August 2018, after Netflix became interested in distributing the project. If it is ever produced, Black Stallions will feature Lil Rel Howery, Kevin Hart, and Don Cheadle as rival brother jockeys in the competitive horse racing world.
Since its announcement nearly three years ago, nothing has been revealed regarding the story of Black Stallions, its other cast members, or when the script would be fleshed out ahead of production. Hopefully this one isn't dead and forgotten, considering the comedic abilities of the three leads, even if War Machine's joke falls flat in Avengers: Age of Ultron.
It is hard to say exactly when (or if) we'll receive any updates on Black Stallions, but the rest of Lil Rel Howery's upcoming projects seem to be well on their way to becoming additions the comedian-turned-actor's impressive filmography. It should be noted, however, that things can change in an instant when it comes to film releases (now more so than ever), so make sure to check back for all the latest. And, since you're here, go ahead and check out CinemaBlend's updated 2021 movie release schedule.
Your Daily Blend of Entertainment News
Philip grew up in Louisiana (not New Orleans) before moving to St. Louis after graduating from Louisiana State University-Shreveport. When he's not writing about movies or television, Philip can be found being chased by his three kids, telling his dogs to stop barking at the mailman, or yelling about professional wrestling to his wife. If the stars properly align, he will talk about For Love Of The Game being the best baseball movie of all time.