HeroBlend #53: Avengers: Endgame Writers Christopher Markus And Stephen McFeely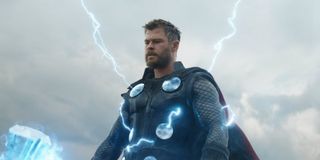 Welcome to HeroBlend #53! It's time for Eric and Adrienne to go over their most pressing Avengers: Endgame questions, plus we have Eric's interview with Endgame's writers Christopher Markus and Stephen McFeely! First, though, we have lots of wonderful superhero news to fill you in on. Updates this week will include Captain Marvel box office news and big news about Endgame's opening weekend, the Marvel hero that's now getting a live action series on Hulu, the new characters who are rumored for The Suicide Squad, Eric's thoughts on the Gotham finale, tons of new information on Avengers: Endgame and a lot more!
Next, while our full review podcast of Avengers: Endgame filled you in on a lot of the details of the mega-hit, there was a lot we didn't get to talk about, because, well, the movie is chock full of surprises and cool moments to go over. So, this week, we'll dive into all the major changes for the MCU because of the events of Endgame and also talk about the many (many, many) pressing questions raised by the movie. As such, we'll discuss Valkyrie's mode of transportation, the two Nebulas, Gamora, what might be in store for Guardians of the Galaxy Vol. 3, Loki, Vision, time travel shenanigans and so much more!
Now, for the main attraction! Eric was able to do a wonderful, spoiler filled interview with Avengers: Endgame writers Christopher Markus and Stephen McFeely the day after we recorded the podcast, and we have that for you in full! This means you'll be getting all the insider secrets on the film from those who know it best, and they have lots to say. Now, sit back and relax, folks, because this is one chat you're not going to want to miss. Ready to dive in? Great! Listen for yourself above!
2:46 - News
39:00 - Major Changes / Questions Left By Endgame
1:05:24 - Christopher Markus and Stephen McFeely Interview
Now, get in on the superhero-filled fun and have a listen to the HeroBlend Podcast #53! And, be sure to subscribe to the HeroBlend Podcast on iTunes, right here (opens in new tab), follow us on Twitter @HeroBlend and follow our hosts @eeisenberg and @HeyAJ7.
Bachelor Nation, Gilmore Girl; will Vulcan nerve pinch pretty much anyone if prompted with cheese...Yes, even Jamie Fraser.
Your Daily Blend of Entertainment News
Thank you for signing up to CinemaBlend. You will receive a verification email shortly.
There was a problem. Please refresh the page and try again.