Check Out Kristen Stewart And Her Girlfriend Crashing A Wedding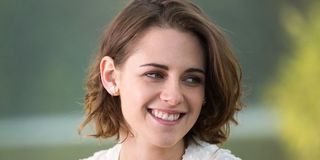 Kristen Stewart and Stella Maxwell recently gave a newlywed couple a surprise wedding gift. The celebrities made an unexpected appearance at the couple's backyard wedding in Winnipeg, Canada. Stewart, whose most famous role includes Bella Swan in the film adaptations of the Twilight books, was in Winnipeg for work when she and Maxwell pulled a Wedding Crashers moment. Check out a photo of the newlyweds and their new Hollywood pals here:
When Kirsten and Kayleigh Jennings tied the knot on Saturday, July 22, they had no idea their guest list would increase with two celebrities. Kayleigh Jennings told CBC News that the weather was iffy throughout the day and there were torrential rains; however, they decided to walk down the aisle no matter what. Of course, some people say rain on your wedding day is an ironic sign of good luck. Well, lo and behold, these two lovebirds got a lucky surprise.
Kirsten and Kayleigh Jennings held their wedding reception at Pizzeria Gusto. The owner of the venue had worked at an event for Kristen Stewart while the Hollywood star was in Winnipeg working. Apparently, they hit it off well enough that the owner had her mobile number, so he called Stewart up and asked her to come to the party.
The owner of Pizzeria Gusto ran it by the newlyweds and asked if it would be all right if Kristen Stewart and her Victoria's Secret model girlfriend joined the party to celebrate with a few drinks. Of course, Kirsten and Kayleigh Jennings jumped at the opportunity. Kirsten Jennings is Canadian, while Kayleigh Jennings is from Oklahoma, so they welcomed Stewart and Maxwell and treated them with those famous brands of Canadian kindness and Southern hospitality. In fact, Kayleigh said,
The Jennings said they had a chance to meet Kristen Stewart and Stella Maxwell before the celebrities joined the reception. Kayleigh Jennings said she was not as starstruck as she thought she would be when they all shook hands. Conversely, her Aunt Linda was all agog about the celebrity guests. But it probably all seemed extraordinary to the Jennings; after all, it was their wedding day.
Kristen Stewart and Stella Maxwell reportedly stayed at the event from about 10:00 p.m. until 1:00 a.m., and they had a great time enjoying drinks, dancing, and requesting songs. It all sounds like the politest, most-Canadian version of Wedding Crashers ever, and we love it.