How Chrissy Teigen Reacted That Time John Legend Tried To Break Up With Her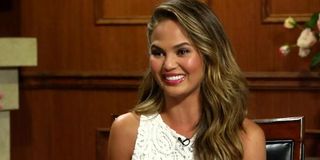 John Legend and Chrissy Teigen appear to have the perfect marriage, but like all couples, they sometimes get on each other's nerves. The Grammy Award winner recently revealed he was feeling irritated one day years ago and tried to break up with Teigen, but the Lip Sync Battle host would not have it. Her response was a definitive and hilarious, "No." The story went viral, so Teigen took to social to clarify what happened (from her perspective, of course). She tweeted,
What Chrissy Teigen wants, Chrissy Teigen gets. It is never a good idea to challenge the whole relationship as John Legend did. Someone other than Teigen might have agreed. Luckily, she branded that suggestion with a big red DENIED stamp, as she explained on Twitter. We love watching their relationship, and frankly, I don't think we could deal with more of our faves breaking up right now.
John Legend kicked off the discussion by admitting he once tried to call things off with Chrissy Teigen. Apparently, it happened because he was having a bad day. Legend said,
That explanation certainly fits Chrissy Teigen's account of her husband being "a whiny face about everything." John Legend made it clear he feels grateful for his decision--or, perhaps, her decision--to stay together. The Guardian reported Legend and Teigen "were dating again less than half an hour later." (i.e. They never broke up.) Legend then praised his wife and said,
Now there is the John Legend and Chrissy Teigen we know and love. They are often candid about their personal lives in interviews and on social. In fact, Teigen is lauded by many of her fans for her straightforward and strong approach toward social.
However, Chrissy Teigen wins points with vulnerable moments, too. For example, Teigen recently discussed cutting back on alcohol to improve her life when she noticed her behaviors and moods shift in negative ways after drinking. Similarly, Teigen also wrote an essay after the birth of her and John Legend's one-year-old daughter, Luna. In the message, Teigen explained her struggle with postpartum depression and the treatments she and her doctor were using to help.
This mix of lighthearted and serious posts makes Teigen a queen when it comes to the relatability factor. Sometimes, her frankness borders on oversharing, but she always brings the situation back around with kind words and love. And when she decides things are going in the wrong direction or getting out of hand, she knows how to shut it down. After all, "No" is a complete sentence.
Your Daily Blend of Entertainment News
Thank you for signing up to CinemaBlend. You will receive a verification email shortly.
There was a problem. Please refresh the page and try again.