How Kim Kardashian Reacted To Kylie Jenner's Pregnancy News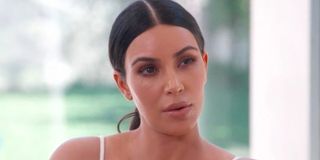 The news that Kylie Jenner and her rapper boyfriend, Travis Scott, are expecting their firstborn child allegedly did not sit well with the Life of Kylie personality's 36-year-old half-sister, Kim Kardashian. Supposedly, Kardashian was stunned when she heard. Kardashian's shock possibly hinged on the fact she twice struggled to get pregnant and carry her two children, North West and Saint West.
As a source for People tells it, Kim Kardashian began crying when she found out Kylie Jenner got pregnant at 20 years old. Kardashian reportedly needed to take a moment to process the fact her sister had become pregnant seemingly without a hitch, while it took Kardashian years of planning and dozens of visits to the doctor's office to do the same.
Kim Kardashian and Kanye West had kids when Kardashian was in her thirties. Kylie Jenner, on the other hand, once told Caitlyn Jenner on Keeping Up with the Kardashians that she wanted to start a family by the time she was 25. Thus, Kylie Jenner's pregnancy might be a surprise, but the entrepreneur did previously indicate she wanted kids sooner than later.
Still, Kim Kardashian's two pregnancies were traumatic, so it makes some sense she felt blindsided by the reports about Kylie Jenner becoming pregnant with apparent ease. Kardashian clearly feels intense emotions when it comes to pregnancy. The reality television personality's two pregnancies left her unable to carry a third child, yet she was adamant about adding one more sibling to the mix, so she and Kanye West hired a surrogate, who is pregnant now.
Apparently, Kim Kardashian was not the only person who had to deal with some feelings of resentment toward the news about Kylie Jenner. Lena Dunham came to Jenner's defense on social media after some of her thirtysomething gal pals felt "triggered" by hearing the news while they, themselves, were having trouble conceiving. The Girls actress reminded her friends they had been "v fertile" at Jenner's age but "broke" and not ready for kids.
The women of The View talked about the issue, too. Sunny Hostin said she had been in similar situations when she was trying to conceive and friends could get pregnant easily. Hostin said it wasn't about jealousy; she just wanted to experience what her pregnant friends were experiencing. Then Joy Behar amusingly piped in and reminded Hostin that what she was explaining was, in fact, jealousy.
However, it isn't all jealousy for Kim Kardashian. Reportedly, Kardashian is excited for and supportive of Kylie Jenner, but she and the rest of the famous family members are nervous because Jenner began dating Travis Scott just this year after splitting up with Tyga. They don't know Scott well, and the relationship has moved quickly. Considering everything that happened in the saga between Rob Kardashian and Blac Chyna, Jenner's relatives want to make sure she is okay. In this way, Kardashian's initial hesitation about the matter might not have been about jealousy---well, not completely anyway.
Your Daily Blend of Entertainment News