One Reason Fergie And Josh Duhamel May Have Split Up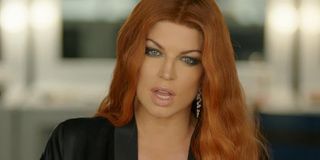 Fergie and Josh Duhamel's pending divorce after eight years of marriage arrives at the same time as the release of her second solo album, Double Dutchess, her first album in eleven years. The 42-year-old pop singer previously said that she and Duhamel did not plan their breakup announcement to coincide with her promotional tour, and honestly, it would be odd if Duhamel had agreed to such an arrangement. Still, it appears Fergie's return to prominence in the music scene may have contributed, in part, to the split. Apparently, Duhamel was over it with Fergie staying out and partying for her marketing campaign.
Previous reports suggested the split between Fergie and Josh Duhamel was amicable, which might still hold true. However, as Page Six tells it, the Transformers actor was not keen on breaking up after nearly a decade. After all, past reports said Duhamel always tried to balance his Hollywood career and family life in a way where he and Fergie could be home often to spend time with their four-year-old son, Axl.
On the other hand, Fergie reportedly wanted to blend her family life into the pop star world she was trying to bring back to life. In fact, Fergie spoke to reporters soon after she and Josh Duhamel announced the breakup, and what she said made it seem like she had already taken time to deal with the grief. Fergie told reporters the reason for the announcement was that it was "getting a little weird" trying to pretend the marriage was not over. According to Fergie, there was "no perfect time," so they "just decided to do it." But the reports that her husband did not want to get a divorce indicate otherwise.
People close to the couple reportedly said Fergie was getting back into her groove of being a global pop star with all of the events and late nights that come along with it. Supposedly, around the time she began working on her new music, the marriage started falling apart. The Black Eyed Peas vocalist and Josh Duhamel allegedly even sought couples counseling to work on their issues, but in the end, Duhamel felt like his wife was reverting to the party-hearty person she was before they linked up back in the mid-aughts.
Still, whatever was happening between Fergie and Josh Duhamel, the stars clearly both love their son. Their joint statement touched on their dedication to co-parenting him, and they both show him off all the time with pictures like this one from Duhamel's Instagram:
Now that Fergie's new album is out, some of her fans have been listening closely to songs like "Love Is Blind" and "Love Is Pain" to see if there might be any clues about what happened or any cryptic references to her breakup with Josh Duhamel. Fergie, herself, has yet to comment on whether or not the couple's road to Splitsville was a direct influence on the album, but Fergie did say that she put a lot of her life on the album and let herself go to a vulnerable place to get the songs.
The reports that indicate Josh Duhamel no longer dug his wife's pop star lifestyle could be accurate. However, Duhamel also has a busy Hollywood career with acting roles in upcoming movies and voiceover gigs in projects like the Call of Duty video game franchise. Therefore, it is more likely that his frustration with her pop star lifestyle was but an element in an overall complicated situation that saw him off working on movies and her off playing concert shows. After all, it would not be the first time two big stars had trouble making it work because of career conflicts. We'll have to stay tuned for specifics from Fergie or Duhamel.
Your Daily Blend of Entertainment News