Cara Delevingne Has Done Another Drastic Thing To Her Hair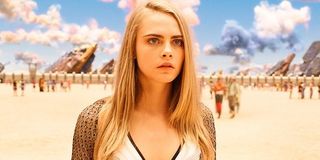 Cara Delevingne loves to change her looks, and she has worn her hair every which way from a long, straight shoulder-length style to a buzzed, chic look not everyone is bold enough to try. Now the 25-year-old actress has done it again with a striking new chocolate-mousse hair color to compliment the pixie cut she has been playing with since chopping her hair short for a role in Life in a Year. Take a look:
Gorgeous! Cara Delevingne posted the photo to celebrate the arrival of her new book, Mirror Mirror, and she earned a bunch of congratulations regarding her literary achievement on the Instagram post. Still, people could not get enough of her short coiffure's coffee color. Delevingne won a lot of love from fans who complimented the way her green eyes paired with the Hershey's Kiss hair color, and she even got some comparisons to her fellow pixie-cut connoisseur Emma Watson.
Between buzzing off her dishwater-blonde, shoulder-length hair and going brunette, Cara Delevingne and her stylist, Mara Roszak, have tried out several trends. For example, they took a page out of the Katy Perry playbook and dyed Delevingne's short hair platinum blonde, the color Kim Kardashian recently said Kanye West loves. Delevingne has rolled with this look, somewhere between Robyn and Edie Sedgwick, for much of the time since she went short.
However, Cara Delevingne has also dabbled in fun colors. She arrived the Valerian and The City of a Thousand Planets debut in Mexico City with champagne pink hair like Kaley Cuoco tried a while back. Delevingne then wore a blue mermaid-hair wig for a moment of "long hair don't care" on social media. She also worked silver like Storm from X-Men and then turned it strawberry blonde for a hot minute. Plus, the Suicide Squad actress even tossed in some autumn auburn before going brown.
It is not the first time Cara Delevingne has let her dark side shine. Back in 2014, she dyed her hair a gorgeous hazelnut brown. Her hair was still long at that time, so the color in and of itself was a shock. Little did fans know what was in store for this Victoria's Secret Angel's evolving style a year or two down the road.
From the looks of it, Cara Delevingne had her hairstylist give her hair a little extra attitude with the scissors. The bangs look slightly choppier and edgier than they did days ago. Delevingne is having a blast changing up her style and keeping people on their toes. But we would expect no less. After all, she is a trendsetting supermodel and actress, so she has to stay a few steps ahead of the curve. So, while this brunette look is excellent, it will be fun to see what she pulls off next.
Your Daily Blend of Entertainment News